Letter from the Dean of the School of Engineering

Thank you for your interest in and support of the School of Engineering at Brown. I am happy to provide you with periodic updates on the exciting progress of our new building for the School of Engineering.

We had a major milestone on February 18 with the topping off of the Applied Mathematics building, the enabling project for the new School of Engineering building. Providence Mayor Jorge Elorza and Brown President Christina Paxson both signed the final structural beam of the building before it was lifted into place.

Plans for the new engineering building are rapidly coming together thanks to the collaborative work of our community planning teams of faculty, staff, and students, architects Kieran-Timberlake, and Shawmut Construction. As part of the planning for the new building, construction crews have already begun digging exploratory test pits on the north and south side of Manning Walkway to identify existing conditions and infrastructure on the site of the new building. We anticipate breaking ground in the fall.

At the last Corporation Meeting in February, the Corporation accepted a spectacular gift of $10M for Engineering from anonymous donors, bringing our total fundraising to date to $93.6M for the School of Engineering. Thanks to all of you who have contributed so generously to this incredible project.

I am always really happy to hear from you—please reach out to me at any time.
Best,




Larry Larson



About this image:
Brown President Christina Paxson and Providence Mayor Jorge Elorza sign the final steel beam before it is hoisted into place

Brown Tops Off New Applied Math Building:

Members of the Brown community gathered today to mark the topping off of Brown's new building for the Division of Applied Mathematics. After remarks by Brown officials and Providence Mayor Jorge Elorza, workers hoisted into place the building's final structural beam, which had been signed by many of those attending the ceremony.

"As we enjoy the benefits of a digital economy and the ability to collect and analyze ever-growing amounts of data, it's clear that we need applied mathematics more than ever," said Brown President Christina Paxson. "Fortunately Brown has been an academic leader in this field for a long time. This building signifies our commitment to an equally strong future for this division."


Construction on the three-story, 13,000-square-foot building began in November 2014, with completion scheduled for December of 2015. The facility, which sits at the corner of George and Hope Streets, will provide new office and meeting space for faculty, students, and staff of the division. The structure will share green space with the existing headquarters for the Division of Applied Mathematics at 182 George St.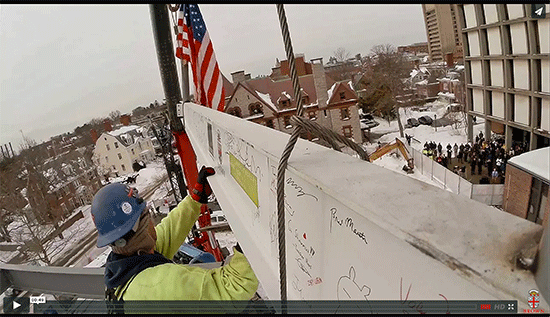 Björn Sandstede, chair of applied mathematics, said the new space will support growth and bolster collaboration.

"More and more undergraduates take our courses and want to engage more closely with our faculty; our graduate students learn, discuss, and work in teams; and our research has become more collaborative," he said. "We're very confident that the design and flexibility that will be afforded to us by the new building will serve us for a long time into the future."

Russell Carey, executive vice president for planning and policy at Brown, said great care was taken to make sure the new structure both served the needs of the division and fit well into the surrounding residential neighborhood.

"For decades, we've faced the neighborhood with a parking lot," Carey said. "The campus development section of the strategic plan that President Paxson set forth for Brown challenged us to do better. We're confident that this beautiful building taking shape behind me, and the new green space around it, will be much, much better for Brown and for our neighbors for decades ahead."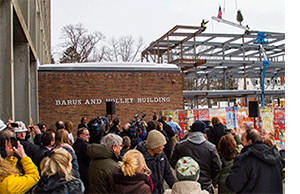 Mayor Elorza noted Brown's ongoing partnership with Building Futures, a Providence-based organization that provides training and apprenticeship opportunities for low-income people interested in the construction trades.

"I'm grateful that President Paxson and Brown University have supported this program in such an important way that opens the door to the building trades for more men, women and minorities every day," Elorza said.

This article originally appeared here


---
Aerial Rendering of Sciences Quad: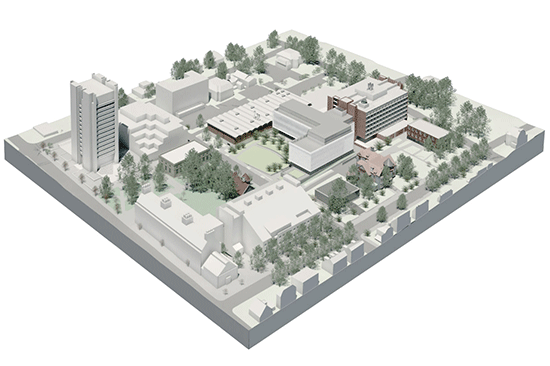 Aerial view of the Sciences Quad, showcasing new School of Engineering building, center
(courtesy of Kieran-Timberlake)





About this image:
Doctoral student Mohak Patel teaching undergraduate student Lauren Chanen '16 the procedure for functionalizing a glass coverslip to create a hydrophilic surface used in the preparation of a hydrogel sample.

Lab Strategy and Design
—Lab Design Elements:

One of the important laboratory design elements that has emerged out of our planning process has been the concept of accommodating graduate student workspaces in close proximity to their laboratories. The current scenario that exists in Barus and Holley, is for some graduate students to have desks in the dry (non-chemistry) labs, but for many to be seated in grad student offices dispersed around the building. These current graduate work spaces are in many cases, too small to host entire groups together and as space has become scarce, students from the same groups or areas have begun to be seated in different rooms and floors. These current seating arrangements also have a number of graduate students sitting a distance from their labs, which impacts their work efficiency and ability to transition from writing and research to experimental work seamlessly. In our planning discussions, faculty and graduate students discussed their workflow, space needs, and safety and oversight of their labs as the priorities in planning for the new building workspace and lab layouts.

 
A suggestion that emerged and has become a principle of the new building design will be a floor layout which will allow graduate students and postdoctoral fellows to have their office space in collaborative areas located immediately outside their laboratories. The advantage of this approach is that graduate students will be able to conduct desk work while an experiment runs, and easily be able to step in to check on it. Postdoctoral students, who often play leadership roles in their groups will be able to have a direct line of sight into the laboratories which allows them to monitor activity while outside the lab, and to be aware of who is in the lab, both of which will contribute to a safer lab environment.

The majority of our faculty also take on undergraduate students in their labs. Undergraduates engaged in lab work need greater monitoring and training as they build their research skills, and are not allowed to be in the lab by themselves. The proposed office and lab layout will allow undergraduates to have greater contact with the entire research group and closer mentoring and supervision in the lab.

Our entire research community of faculty, postdocs, graduate and undergraduate students, and researchers are excited about the productive, collaborative and collegial environment this new layered lab and common workspace layout will present, and are excited to see this take shape over the next two years.
---
Community Planning—A New Community Commons:
As the plan for the new Engineering building has started to solidify, an exciting element that our planning groups have been working on is the idea of a Community Commons on the ground floor. As the new building will be positioned along the front of Barus and Holley and the Giancarlo Laboratories, its entrance will present a major convening point for the east side of campus. A lobby area, double the size of the existing Barus and Holley lobby, has been designated for the ground floor of the new building.

The current Barus and Holley has been adapted over the past 50 years, to better accommodate the growing community. The current lobby is heavily used for study groups, poster sessions, receptions, 'dean in the lobby' advising, student group meetings and events, art shows, and many other uses throughout the year. During such events it is often bursting at the seams, as it no longer quite holds our growing community.

Rather than a typical sterile lobby or a standard cafe, with food services and seats, our planning teams have envisioned a flexible community commons, which will become the primary lobby, food, and multi-purpose event space for the complex. Features the planning team are envisioning may include: flexible table and chair seating for lunches and study groups, which can be changed over to classroom-style seating with a podium and projector to hold weekend symposia, or to screen movies. A third format would be to change out the tables for poster stands, and host receptions with research poster sessions. The furniture will be chosen to be reconfigurable and this commons area will open out to a patio and terrace area facing Brook Street, which can expand events to the outdoors in good weather. We anticipate many more uses for this space and anticipate it becoming a hub for our community and a wonderful commons space that will grow and adapt with our communities for many decades to come.