Join Brown alumni/ae, parents, and friends at the University's fourth annual reception on the occasion of the World Economic Forum

Friday, January 24, 2014
10:00 p.m.–midnight

Salon Scaletta
Steigenberger Hotel Belvedere
Promenade 89
Davos, Switzerland

For more information or to RSVP, contact Suncha Lee P'98 P'98.

****************************

International Brown Club EVENTS

December 12 – Seoul
Vice President for International Advancement Ron Margolin and Regional Director for International Advancement Geoffrey Kirkman '91 will attend the Brown Club of Korea's 2013 Alumni Year-end Gathering to share updates from College Hill.
Contact brownclubkorea@gmail.com for more information.

January 9 – Hong Kong
Richard Locke, the Howard R. Swearer Director of the Watson Institute for International Studies, will speak about "Making Globalization Work for All: New Research on Labor Standards in Global Supply Chains."
Contact: Adam Sherman '03

January 9 – Milan
Professor of Neuroscience Jerome Sanes P'17 will give a talk titled "Where Brains and Minds Meet."
Contact: Eric Egan '90

For the fall 2013 semester, 281 students are enrolled in study abroad programs, the largest number in the past five years. The United Kingdom is the most common destination for Brown students studying abroad this semester, followed by Spain, France, and Italy.

Ricardo Lagos, former president of Chile and Brown professor-at-large, opened the discussion "American Health Care Reform: Lessons Learned from International Systems." The event was co-sponsored by the School of Public Health and the Watson Institute for International Studies.

Romano Prodi, former prime minister of Italy, former president of the European Commission, and Brown professor-at-large, delivered the keynote address during the Conference on the State of Italy. The event was hosted by the Watson Institute for International Studies.

Reunion 2014: May 23, 24 and 25
Does your class year end in 4 or 9? Celebrate your lifelong connection to Brown through your class reunion in May.

Janet Yellen '67 LLD'98 was nominated as chair of the Federal Reserve, the central bank of the United States, by President Barack Obama. If confirmed, Yellen, the Fed's current vice chair, would be the first woman to lead the bank in its 100-year history.

Adam Namm '85 has served as U.S. Ambassador to Ecuador since April 2012. A career member of the Senior Foreign Service, Ambassador Namm joined the Department of State in 1987. He has served in Islamabad, Bogota, Dhahran, and Santo Domingo, and in U.S. postings.

Pierre-Alexis Dumas '91 (France), artistic managing director at Hermès International, was awarded the Legion d'Honneur.

Sushma Joshi '97 (Nepal), a writer and filmmaker, recently published the third edition of her book The End of the World, which was longlisted for the Frank O'Connor International Short Story Award in 2009. She runs her blog "The fiction of truth, the truth of fiction."

Mary Pan '99 started the international art festival Spot Art in Singapore to promote emerging talent in Southeast Asia. Spot Art 2013 showcased 78 young artists from 10 countries whose works had been selected by a jury of renowned art experts.

Aliya LeeKong '00, a former chef at Michelin-starred restaurant Junoon in New York, recently signed copies of her new book Exotic Table at the Brown Bookstore. She traveled the world to make global flavors accessible for today's home cooks.

Charles Evans Hughes, Class of 1881, was Secretary of State and the Republican candidate for President of the United States in 1916. As Secretary of State under President Warren G. Harding, he gained prominence calling for the first Arms Limitation Conference at Washington and for opposing recognition of the Soviet Union without payment of Czarist debts and rights of private property.

Always the loyal alumnus, Hughes spoke on campus at the alumni meeting in 1937, at which he recalled the four Brown presidents he had known and heralded the beginning of Henry Wriston's presidency with these much quoted words, "It is always Old Brown and it is always New Brown. I am here to greet the New Brown of this era, to hail the dawning of a new day full of the brightest promise."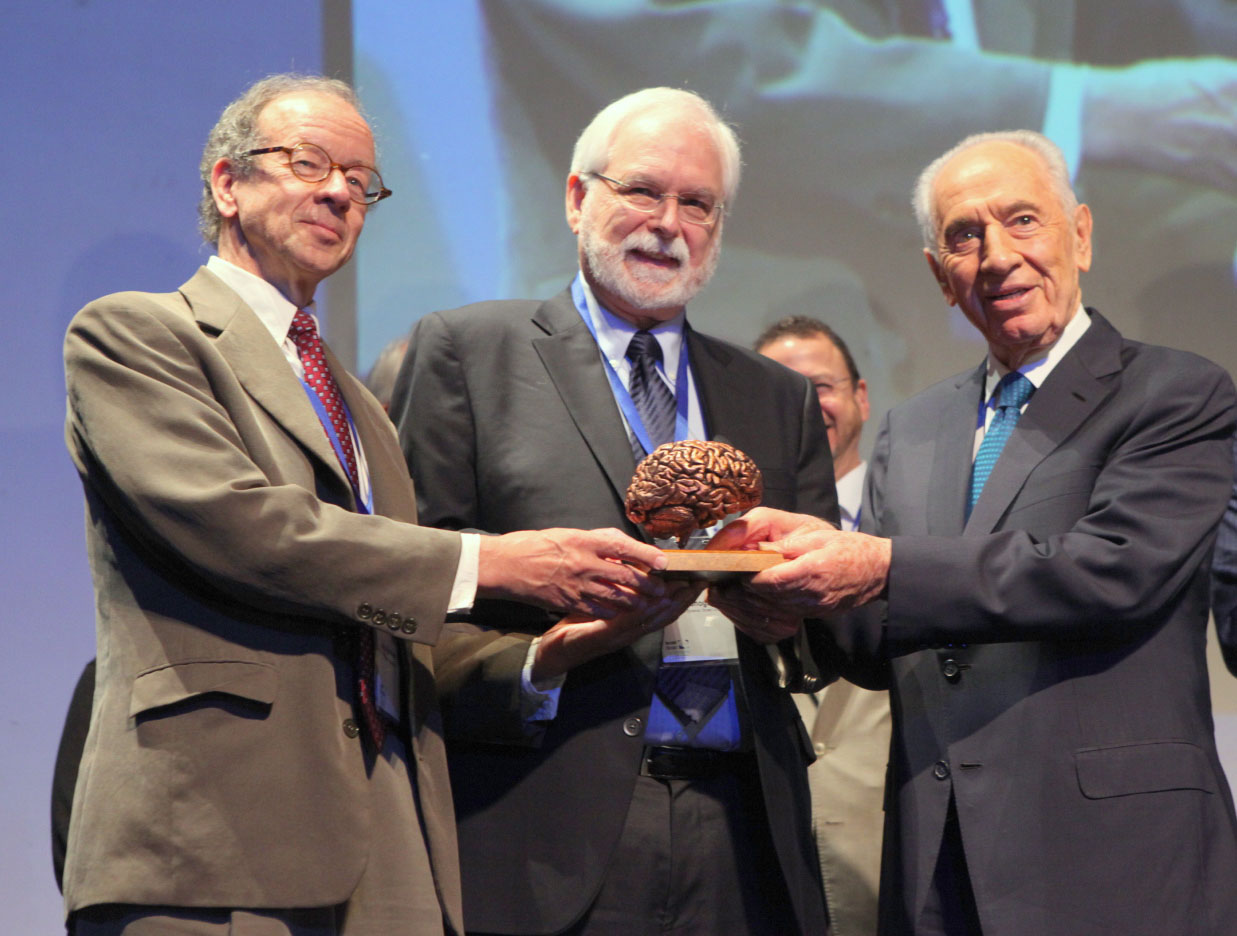 BrainGate Team Wins $1M Prize in Israel
In October, Brown's BrainGate team won the $1 million Moshe Mirilashvili Memorial Fund B.R.A.I.N. Prize for developing a brain-computer interface that could help restore independence for people with paralysis. Israeli President Shimon Peres LLD'95 presented the prize to John Donoghue PHD'79 P'09 P'12 MD'16, the Henry Merritt Wriston Professor of Neuroscience and Engineering and director of the Brown Institute for Brain Science, and Arto Nurmikko P'10, the L. Herbert Ballou University Professor of Engineering and Physics.

Photo: Professors Nurmikko (left) and Donoghue (middle) receive the prize from President Peres at the BrainTech Israel 2013 conference in Tel Aviv.
Credit: Chen Galili


Brown received major gifts and pledges from international alumni/ae and parents for various purposes including:
Graduate fellowships and a flexible exchange fund for public health (Ukraine)

The Mahatma Gandhi Professorship in Modern India Studies (India)

Student exchanges between Brown and Keio University (Japan)

The School of Engineering building fund (Korea)

A Brown Annual Fund Scholarship (United Kingdom)




'Indomitable' Finds a Home on Campus
"Indomitable," a 10-foot-high bronze sculpture of Brown's mascot— the Kodiak bear—by British artist Nick Bibby, was recently installed on Ittleson Quadrangle in front of the Nelson Fitness Center. It was cast at the Pangolin Editions foundry in Gloucestershire, England, before being shipped by boat to the United States. On November 2, the sculpture was dedicated in a ceremony that included remarks by President Christina Paxson.

Photo credit: Mike Cohea/Brown University

Brown Ranks Fifth on Graduates Entering Public Service
Brown ranks fifth on the list of the top 50 U.S. universities in the percentage of graduates entering public service—in government agencies, nonprofit organizations, and public education—over the last ten years. The research was conducted by the Aspen Institute and published in Washington Monthly magazine.

Brown Graduates Rank among Top Earners
Brown graduates have the eighth highest average income after graduation among alumni/ae of U.S. colleges according to an annual survey recently released by PayScale.

Brown Hosts Nobel Laureate Economist Amartya Sen
The Brown-India Seminar Series and the Watson Distinguished Speaker Series featured Nobel laureate economist Amartya Sen for a lecture titled "Why is the Penalty of Inequality so High in India?" at the List Art Center. President Christina Paxson chaired the seminar and discussion.

Palestinian Leader Hanan Ashrawi Speaks at Brown
Hanan Ashrawi, Palestinian leader, legislator, and activist, visited Brown to deliver a lecture and take part in a panel discussion as part of a year-long series of events: "Oslo is Dead; Long Live Oslo." The events were organized by Brown's Middle East Studies Initiative to mark the 20th anniversary of the Oslo Peace Accords, the agreement signed by Israel and the Palestine Liberation Organization.

Film and Panel Discussion with Former President of Chile Ricardo Lagos
The Center for Latin American and Caribbean Studies and the Watson Institute for International Studies presented a film screening of No, a fictionalized account of the role advertising played in Chile's 1988 plebiscite, which determined whether General Augusto Pinochet would stay in power for another eight years. The screening was followed by a panel discussion with Ricardo Lagos, former president of Chile and Brown professor-at-large, and Genaro Arriagada, director of the "No" campaign on which the film is based.

Former President Gregorian Honored in Scotland
Vartan Gregorian, president of Carnegie Corporation of New York and president of Brown from 1989 to 1997, was honored in Andrew Carnegie's birthplace of Dunfermline, Scotland. A pathway in Pittencrieff Park, which was donated to the people of Scotland by Andrew Carnegie in 1903, was named "Vartan's Way." This honor was in recognition of Gregorian's contribution to international philanthropy.

Photo: President Gregorian with the signpost for "Vartan's Way," named after him in a ceremony on Ocotober 14.
Credit: Alan S. Morrison

Ugandan Playwright Earns Brown Fellowship
Ugandan playwright George Seremba has been named the recipient of Brown's 2013-2014 International Writers Project Fellowship. The fellowship provides a stipend and working space to writers who have been subjected to political harassment, imprisonment, or death threats in their homeland.

An Extraordinary Year for Faculty Hiring
The 2013-2014 academic year is a banner year for faculty hiring. The number of regular faculty has reached 731, with nearly 50 new members. New hires include senior scholars, leadership for several disciplines and research centers, and faculty for the School of Engineering. New faculty members with international expertise include:

Brown/RISD/Erfurt Team Designs Techstyle Haus
Students from Brown, the Rhode Island School of Design, and the University of Applied Sciences Erfurt in Germany are designing and building what they call "Techstyle Haus." It will use 90 percent less energy than a typical house and be built to be liveable, flexible, durable, and lightweight enough to be shipped from Providence to France. The Brown/RISD/Erfurt team is one of only 20 teams from 16 countries selected to participate in the Solar Decathlon Europe 2014 competition, which will be held in Versailles, France, during June and July 2014.

Photo: Techstyle Haus
Credit: Solar Decathlon team

Rafiq Wins Fulbright-Hays Fellowship
Mohamed Yunus Rafiq, a Ph.D. candidate in anthropology, won a Fulbright-Hays Doctoral Dissertation Research Abroad Fellowship to pursue a year-long research project in Tanzania. The fellowship will enable him to do research on how Muslim religious figures mediate relations between the state and the citizens through public health programs in post-socialist Tanzania.

Rainwater for Humanity Selected for Funding
Rainwater for Humanity (R4H), a social enterprise founded by Brown students to address the potable water crisis in India, is among nine university enterprises selected to receive funding from the Ford Motor Company Fund.

Students Publish Brown Political Review
The Brown Political Review is a student-run political magazine launched in 2012 under the guidance of Professor of Political Science John Tomasi to contribute to a thoughtful and nonpartisan political culture at Brown. The magazine includes a global section, which focuses on international affairs. In its most recent issue, the magazine featured articles titled "What We Owe Iraq" and "A Problem Like Korea" written by Alexandra Garcia '16 and Stella Kim '16 respectively.

A Mid-Autumn Festival on College Hill
The Brown Chinese Student and Scholar Association hosted a Mid-Autumn Festival on the College Green. The event included dance, food, and music from several instruments, such as the Guzheng, a Chinese plucked zither.

Brown Launches Partnership on South Africa HIV
Brown and the University of Cape Town in South Africa will collaborate on a five-year program to train the next generation of social scientists in South Africa with a specialty in HIV. The project is funded by a grant from the Eunice Kennedy Shriver National Institute of Child Health and Human Development.
Brazil Initiative Opens Call for Faculty Collaboration Grants
This grant, which was made possible through the generosity of an international Brown parent, supports partnerships between the University and Brazilian academic institutions to promote research and teaching related to Brazil in the areas of mathematics, environmental sciences, public health, medicine, and engineering.