PRESIDENTIAL TRAVEL

December 4–5
President Paxson will travel to Hong Kong to celebrate the University's 250th anniversary with members of the Brown community. Alumni/ae, parents, and friends are invited to the celebration, which will take place the evening of December 4. Contact Connie DiPanfilo for more information.

****************************

CAMPUS EVENTS

Family Weekend
October 24–26

****************************

INTERNATIONAL BROWN CLUB EVENTS

September 25 – Rome
U.S. Ambassador to Italy and San Marino John Phillips will host a reception at his residence in recognition of Brown's 250th anniversary.
Contact: Virginia McQueen '81


October 5 – Toronto
Professor of Political Science and Public Policy Ross Cheit will speak about "Team Cheit: The Amazing True Story of How More Than 75 Brown Undergraduates Gave 'Extreme Research' Its Name."
Contact: Mitra Nadjmi '93

Peter Lurie '88, associate professor of English and film studies at the University of Richmond, has been awarded a Fulbright Distinguished Chair in American Studies teaching fellowship at the University of Warsaw in Poland for the spring 2015 semester.

Katia Lund '89 (Brazil) directed the video for Ricky Martin's new single "Vida," which was included in the official FIFA World Cup album, One Love, One Rhythm. "Vida" was the winning entry in a global songwriting competition sponsored by Sony for the 2014 World Cup.

David Pressman '99 has been nominated by President Barack Obama as Alternate Representative of the United States for Special Political Affairs in the United Nations, with the rank of ambassador.

Gideon Arthurs '02 (Canada) was appointed chief executive officer of the National Theatre School of Canada. He has more than 10 years of experience as a theatre producer.

Alexandra Stratou '06 (Greece) recently authored a cookbook titled Cooking to Share, Greek recipes from her family. Through a Kickstarter campaign, she created a community of 500 people who supported her in publishing the book.

Parth Jindal '12 (India), economic analyst of JSW Group and chief executive officer of Bangalore Football Club, was featured in Bangalore Mirror, a daily newspaper in India. He wants to live the dream of his grandfather O.P. Jindal, founder of JSW Group, to make electricity as cheap as water in their home state of Haryana.

Akash Ambani '13 (India), who recently joined his family's company, Reliance Jio Infocomm Limited, was interviewed by the Times of India. He says his family taught him to stay simple but dream big, and that technology is his passion. An avid cricketer, he has been closely involved with the Indian Premier League franchise, the Mumbai Indians.

During the summer, Brown clubs around the world celebrated the University's 250th anniversary with special events. These included the clubs in Belgium, France, Switzerland, and the United Kingdom. The Brown Club of East Africa also had a celebration with fellow Ivy clubs in Nairobi. (Photo below)

The Brown Club of India hosted a send–off event for incoming freshmen and their families in Mumbai with special guests Sol Goldman Professor of International Studies and the Social Sciences and director of the Brown–India Initiative Ashutosh Varshney and Regional Director for International Advancement Robert Ayan. 

The Brown Club of Turkey hosted Beshara Doumani, Joukowsky Family Distinguished Professor of Modern Middle East History and director of the Middle East Studies.

The Brown Club of Israel hosted Adjunct Professor of Engineering Danny Warshay '87, who spoke about entrepreneurship at Brown.

John Muccio, Class of 1921, was the first United States Ambassador to Korea. Muccio, a career diplomat who served in Seoul at the outbreak of the Korean War, was appointed ambassador in 1949 after having served as the special representative of President Harry Truman to the newly formed republic. He received two commendations for his service in Korea. One of them, the Medal of Merit, cited his valor and courageous devotion to duty and superlative diplomatic skill.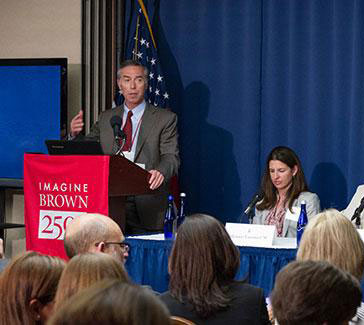 Watson Goes to Washington
On June 9, alumni/ae, parents, and friends attended a series of events at the National Press Club in Washington, D.C., hosted by Brown and the Watson Institute for International Studies as part of the University's 250th anniversary celebration. The event, "Creating Peaceful, Just, and Prosperous Societies," featured U.S. Secretary of Labor Thomas Perez '83 P'18, who delivered the keynote address. Perez's speech was followed by a panel of Watson experts and a reception attended by 300 people.

Photo: from left – Richard Locke, Howard R. Swearer Director of the Watson Institute for International Studies, and faculty fellows Melani Cammett '91, Glenn Loury, and Edward Steinfeld.


Fundraising Highlights for Fiscal Year 2014
During fiscal year 2014 (July 1, 2013–June 30, 2014) international alumni/ae, parents, and friends made new gifts and pledges of $36 million—16 percent of the $225 million that the University raised. Alumni and parent donors from Hong Kong, the United Kingdom, India, Ukraine, Singapore, Korea, Japan, Jordan, Canada, and Germany led the giving.

Brown among Most Affordable Colleges for International Students
Brown was named one of the 50 best–rated, most affordable colleges for international students by Great Value Colleges, a premier website. The list was compiled by reviewing U.S. News and World Report's list of the schools in the United States with the highest percentage of international students and then calculating each school's adjusted average tuition.

Top Music Colleges Include Brown
Brown is seventh on the list of top 10 U.S. music colleges by College Factual, which bases college rankings by major on a selection of characteristics, including the overall quality of the school and the starting and mid–career salaries of graduates within the major, among other factors.

President Paxson Interviewed by Forbes India
President Christina Paxson was interviewed by Forbes India, and the article, titled "Brown University's Aim: Create Intellectual Entrepreneurs," was published in June. In the article, she shares her plans to rejuvenate the University without establishing an overseas campus. She also addresses Brown's desire to attract the most talented students from around the world and her wish that they be admitted on a need–blind basis.

Sixth Annual Brown International Advanced Research Institutes (BIARI)
In June, 130 scholars from 40 countries participated in BIARI 2014. Made possible by generous ongoing support from Santander Universities in Spain and first held in 2009, BIARI brings young scholars from around the world to Brown every summer for two–week institutes for interdisciplinary lectures, seminars, and workshops. BIARI now boasts a community of more than 850 alumni/ae from 100 countries, providing them with support for collaborative research and professional development.


Brown Wins 22 Fulbright Awards
A total of 22 recent graduates have been awarded Fulbright scholarships. This prestigious award helps students pursue graduate study, research, or teach in one of 150 countries. Brown's Fulbright scholars will be based in 14 countries, including France, Jordan, Malaysia, Mexico, and South Africa.

Photo: Brown's new Fulbright scholars

Donoghue to Help Set up Swiss Center
John Donoghue PHD'79 P'09 P'12 MD'17, the Henry Merritt Wriston Professor of Neuroscience and director of the Brown Institute for Brain Science, will head to Geneva for a year–long sabbatical in 2015 to help launch the Wyss Center for Bio– and Neuro–Engineering. The Wyss Center, with its emphasis on translating innovative ideas to new devices, is poised to be an international focal point for discovery and the creation of advanced medical technologies. The Ecole Polytechnique Fédérale de Lausanne founded the center with the University of Geneva.

Houston Named CASVA Fellow
Stephen Houston, the Dupee Family Professor of Social Science and professor of anthropology and archaeology, has been named an Ailsa Mellon Bruce Senior Fellow at the National Gallery of Art's Center for Advanced Study in the Visual Arts (CASVA) for the 2014–2015 academic year. The fellowship will support Houston's full–time research on the role of men in Maya art and writing.

Kim Works on Mathematics of How Wrinkles Become Creases
Professor of Engineering Kyung–Suk Kim PHD'80 P'11 P'11 and research associate Mazen Diab have worked out mathematically how wrinkles form in solid materials under compression and how those wrinkles can become creases. The mathematics of wrinkles and creases could help in the design of flexible electronic circuits, artificial skin, and soft robotic grips and may also help explain brain injuries due to compression. The work was supported by the Korea Institute of Science and Technology, the Korea Institute of Machinery and Materials, and the U.S. National Science Foundation.

Photo: Professor Kim

Foster's Research on Air Pollution Cited in The Hindu
An article on air pollution in India cites research by Andrew Foster, professor of economics, that used data from 113 pollution–monitoring stations in Delhi and surrounding areas to show that mandated use of compressed natural gas in commercial vehicles and relocation of polluting industries led to an improvement in lung function among adults.

Students Participate in International Summer Internships
Brown is committed to enhancing and expanding summer internships for undergraduate students and is collaborating with alumni/ae and parents to identify internship opportunities. This summer, 11 students participated in internships in China, India, South Africa, and Spain through Brown's C.V. Starr Program in Business, Entrepreneurship, and Organizations.

Brown/RISD/Erfurt Team Competes in the Solar Decathlon Europe
Students from Brown, the Rhode Island School of Design, and the University of Applied Sciences Erfurt in Germany built a modular solar house called Techstyle Haus in Providence this past spring. Then they dismantled it, shipped it to France, and reassembled it on the grounds of the Versailles Palace this summer for the 2014 Solar Decathlon Europe. The team finished in 14th place overall.

Photo: Techstyle Haus
Credit: Kristen Pelou

Men's Crew Competes at Henley Royal Regatta
The Brown men's crew sent the freshmen eight to the finals and the varsity eight to the semifinals at the Henley Royal Regatta in England. After defeating A.S.R. Nereus of the Netherlands in the semifinals of the Temple Challenge Cup, the Brown freshmen eight fell to Oxford Brookes in the finals. The Brown varsity eight fell to the Leander Club in the semifinals of the Ladies' Challenge Plate, edged only by about a deck length.

Brown Student Language Exchange (BSLE)
Launched by students in 2012, BSLE has brought 19 languages to campus, creating opportunities for students to share their culture with their peers in discussion sessions. The program, which won the 2012 Student Leader Award for Fostering Understanding and a Brown Student Agencies Inspire Grant, continues to unite students around diversity and multiculturalism. This semester, BSLE is offering four languages: Bengali, Amharic, Macedonian, and Tagalog.

IE and Brown to Offer Joint Business Degree
Brown and IE Business School in Spain will offer the joint IE Brown Executive Master of Business Administration (EMBA) degree. This is the first MBA degree to be awarded by Brown. Members of the Class of 2016, who start the program in March of 2015, will be the first to earn this joint degree. Launched in 2011, the IE Brown EMBA mixes content, pedagogies, faculty, and the complementary strengths of both institutions.