The Office of International Advancement is currently recruiting a regional director, who will work with Brown alumni, parents, and friends internationally, with a focus on Asia, Canada, South America, and possibly Europe. We welcome nominations and applications from Brown alumni and friends.

Visit Brown's Human Resources website for details and to apply.


CAMPUS EVENTS

Family Weekend
October 16–18

****************************

INTERNATIONAL BROWN CLUB EVENTS

July 1 – Paris
President Paxson will visit the Brown Club of France in Paris. Contact: Julia Furman '06

July 4 – Henley–on–Thames
The Brown Women's Crew team will compete in the Henley Regatta. President Paxson will attend the races and a reception for crew team members, alumni, and parents, hosted by the Brown Club of the United Kingdom. Contact: Alexandra Ducas '07

July 16 - Vienna
Professor of Political Science and Public Policy Ross Cheit will speak about "The Politics of Food." Contact: Renee Gadsden '85

Brown made 2,580 offers of admission for the Class of 2019, representing 8.5 percent of this year's 30,397 applicants, the lowest acceptance rate in Brown history. Students admitted to the Class of 2019 are from all 50 states and 85 countries and attended 1,650 different high schools.
After eight years as a professor–at–large, former Chilean president Ricardo Lagos ended his residency at the Watson Institute for International Studies. Lagos participated in many conferences and seminars during his time at Brown. He served as president of Chile from 2000 to 2006 and finished his term with record-high approval ratings after significantly improving Chile's economy.


Business Insider, a business news website, stated that Brown is consistently named one of the smartest colleges in the country and published "The 24 Most Successful Brown Alumni of All Time." The list includes CNN and Turner Broadcasting founder Ted Turner '60 PHB'89 LLD'93, Chair of the Federal Reserve Janet Yellen '67 LLD'98, and star of the Harry Potter film series Emma Watson '14 (United Kingdom) among others.

Stacy Palmer '82, editor of The Chronicle for Philanthropy, interviewed philanthropist Zhang Xin during the Council for Advancement and Support of Education conference in New York City. Zhang Xin, co-founder and CEO of the Beijing-based real estate developer SOHO China, and her husband, Pan Shiyi, recently committed $100 million through the SOHO China Foundation to fund overseas study for Chinese undergraduates at the world's top universities.

Tarek Shawki SCM'83 PHD'86 (Egypt), dean of the School of Sciences and Engineering at American University of Cairo (AUC), was a keynote speaker at the international conference— Education and Training for Sustainability—held at AUC.

Mai Al–Nakib PHD '04, associate professor of English and comparative literature at Kuwait University, delivered a lecture on campus on the role of fiction and the quotidian in Kuwait in relation to her recently published collection of short stories, The Hidden Light of Objects. The talk and subsequent book signing were co–sponsored by the Watson Institute for International Studies and the Middle East Studies.

In March, Brown Clubs in Rio de Janeiro and Sao Paulo assisted in hosting events for Professor James Green—Carlos Manuel de Cespedes Professor of Modern Latin American History and Portuguese and Brazilian Studies and director of the Brazil Initiative—and Associate Provost for Global Engagement Sonia Feigenbaum, who spoke about Brown's Brazil Initiative.

William Goddard graduated from Brown in 1846. He sailed to Europe, where he participated in the European Revolutions of 1848 by carrying official dispatches from Paris to Rome, where his cousin Nicholas Brown III served as the American consul. Goddard later became a trustee and then chancellor of Brown. The Goddard family house was donated to Brown by Goddard's daughter Hope Goddard Iselin and is now the University's Maddock Alumni Center.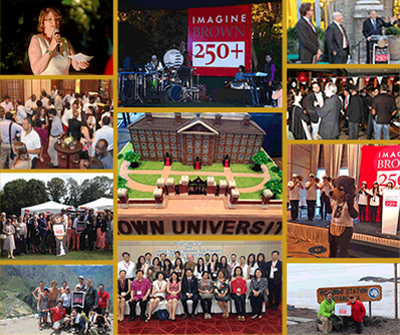 Brown Celebrates 250th Anniversary Around the World
Brown communities abroad as well as in the United States gathered to celebrate the University's semiquincentenary. Several of the anniversary events—gatherings in New Delhi, Mumbai, and Hong Kong—included President Christina Paxson P'19. At each one, alumni, parents, and friends enjoyed the festivities and shared their love for the University.

Photo: From top left clockwise, celebrations in Mumbai (President Paxson), New Delhi, Rome, Athens, Hong Kong, Antarctica, Bangkok, at the summit of Huayna Picchu overlooking Machu Picchu, Henley–on–Thames, and Nairobi. Center, the 250th cake at the Hong Kong event.


Brown's 247th Commencement
President Paxson presided over Brown's 247th Commencement on May 24. Amid undergraduate, graduate, and medical school graduations were events including campus dance and academic and topical colloquia led by alumni, faculty, and distinguished guests. Forums included "Responding to Ebola: Perspectives from the Front Line," "Book Talk: The Pope and Mussolini," and "Brown University: 250 Years in a Strange Place" all sponsored by the Watson Institute for International Studies.

Hazeltine Receives Susan Colver Rosenberger Medal
At the Commencement ceremony, the University faculty conferred its highest honor, the Susan Colver Rosenberger Medal of Honor, on Professor Emeritus of Engineering Barrett Hazeltine, who has inspired generations of Brown students. "Engineering 9: Management of Industrial and Nonprofit Organizations," which Hazeltine has taught for more than 40 years, remains one of the most popular courses at the University.



Annual International Reception
On May 23, the Office of International Advancement hosted its annual reception honoring graduating international students and alumni in reunion. During the celebration at Rochambeau House, the Brown International Scholarship Committee (BISC) spoke to the 300 attendees about the importance of need-blind admission for international students. Outgoing BISC president Ignacio Semerene '15 (Ecuador) discussed the student group's efforts to raise awareness and scholarships for international students over the past year. Incoming BISC president Carolina Guzman '16 (Panama) discussed the students' enthusiasm to help more student scholars from around the world attend Brown through international student scholarships.

Photo: Ignacio Semerene '15 (left) and Carolina Guzman '16 at the reception.

Aga Khan Professorship in Islamic Humanities
The Aga Khan Professorship in Islamic Humanities was recently established by His Highness Prince Karim Aga Khan LLD'96 P'95 in honor of Vartan Gregorian, Brown's 16th president. This professorship will allow Brown to recruit an outstanding scholar in the field. Endowed professorships are the highest academic awards that universities can bestow on faculty members. In addition to honoring distinguished professors, endowed professorships serve as lasting tributes to the donors who establish them.

Shankarlal Mittal Lobby Dedicated
The newly renovated Shankarlal Mittal Lobby in the John Hay Library was dedicated on May 22. Ajay and Archana Mittal P'12 P'15, supporters of the University and members of Brown's Advisory Council on India, named the lobby in memory of Shankarlal Mittal, grandfather of Ananya '12 and Arshiya '15.

Photo: The plaque in the Shankarlal Mittal Lobby.

Brown also received gifts and pledges from other international alumni, parents, and friends for various purposes, including:

Middle East Studies Flexible Fund (United Kingdom)
SBS Foundation Korean Study Fund (Korea)
Endowed Scholarship (United Kingdom)
Brown Annual Fund Scholarships (Brazil/United Kingdom)
Undergraduate Teaching and Research Awards for Computer Science (Canada)
Brown Ranked Among 10 Best Private Colleges in U.S.
Brown was recently listed as one of the 10 best private colleges in the country by College Factual, a rankings website that powers USA Today's college guide. The website praised Brown for its low student-to-faculty ratio, its commitment to individualized education, and its many centers and institutes for research and public service.

Brazil's Model of Low Carbon Sustainable Development
The Brazil Initiative presented an international symposium on Brazil's model of low carbon sustainable development with participants from Brazil, Canada, and the United States. The event brought together cutting edge research on regional climate change in Brazil, deforestation, and agricultural policy. It also included discussion panels, which provided a forum for scholars and policymakers to reflect on Brazil's role in international climate change negotiations.



The China Forum on Public Health, Environment, and Public Policy
As part of the China Initiative, Brown hosted the China Forum on Public Health, Environment, and Public Policy. The event brought together public health officials and scientists from China and Brown to discuss current and future public health challenges in China and to create opportunities for students and faculty to collaborate on further research in the field. The forum featured top Chinese governmental officials who have a major role in shaping public health policy and leading researchers engaged in major public health research, training, and teaching activities in China.


Joint Seminar on South Asian Politics
The Brown-India Initiative hosted Professors Pradeep Chhibber from the University of California at Berkeley in February and Chandan Gowda from Azim Premji University in India in April as part of the joint seminar on South Asian Politics with Harvard and MIT. They gave talks titled "Religious Practice and Democracy in India" and "The Origins of the Developmental State: Colonialism and the Politics of Knowledge in India" respectively. The joint seminar was chaired by Ashutosh Varshney, Sol Goldman Professor of International Studies and Social Sciences and director of the Brown-India Initiative.


Dreaming of Tomorrow: Youth Culture in the Middle East
The Middle East Studies screened Wadjda, a film shot in Saudi Arabia about a young girl who dreams of being able to ride a bicycle. The film marked the final installment in the Middle East Studies Film Series for the 2014–2015 academic year titled "Dreaming of Tomorrow: Youth Culture in the Middle East." Following the screening, two Brown undergraduates from Saudi Arabia shared their reflections on the film and answered questions from the audience. The screening was curated by Sa'ed Atshan, postdoctoral fellow in international studies at the Watson Institute, and co–sponsored by the Brown University Film Forum.



CAAS Rounds on HIV, Substance Use and Juvenile Justice in Ukraine
Associate Professor of Psychiatry and Human Behavior Marina Tolou-Shams presented "HIV risk and substance use among juvenile justice youth in Ukraine" as part of Brown's Center for Alcohol & Addiction Studies Rounds, a weekly discussion series. Her research and collaborations related to public health and medical issues facing Ukraine have been supported in part by the Brown-Ukraine Public Health Exchange Fund established by Elena and Victor Pinchuk P'14 (Ukraine).



Kertzer Wins Pulitzer Prize
David Kertzer '69 P'95 P'98, Paul R. Dupee Jr. University Professor of Social Science, professor of anthropology and Italian studies, and former provost at Brown, has won the 2015 Pulitzer Prize for biography-autobiography for his book The Pope and Mussolini: The Secret History of Pius XI and the Rise of Fascism in Europe. The book centers on the secret relationship between Pope Pius XI and infamous dictator Benito Mussolini. Kertzer spent seven years conducting research in Vatican and Fascist archives to complete the biography.

Head Wins GSA's Highest Honor
James W. Head III, the Louis and Elizabeth Scherck Distinguished Professor of Geological Sciences, has been awarded the Geological Society of America's Penrose Medal, the society's highest honor. The medal has been awarded each year since 1927 "in recognition of eminent research in pure geology, for outstanding original contributions or achievements that mark a major advance in the science of geology." 

Karniadakis Wins Two Professional Awards
Charles Pitts Robinson and John Palmer Barstow Professor of Applied Mathematics George Karniadakis has been selected to receive two distinguished professional awards for his research. In March, he received the 2015 Wiederhielm Award from the Microcirculatory Society in Boston; in August, he will be awarded the Ralph E. Kleinman Prize from the Society for Industrial and Applied Mathematics in Beijing. Karniadakis develops algorithms and mathematical simulations for a variety of physical and biological systems.

Singh Receives the 2015 Joseph W. Elder Prize in the Indian Social Sciences
In March, the Publications Committee of the American Institute of Indian Studies awarded Assistant Professor of Anthropology Bhrigupati Singh the 2015 Joseph W. Elder Prize in the Indian Social Sciences for his manuscript, Poverty and the Quest of Life: Spiritual and Material Striving in Contemporary Rural India. The book presents the research Singh conducted while living in the rural-tribal area of Shahabad in the state of Rajasthan for 18 months.

Williard and Sanes Win Fulbright Scholar Awards
Professor of Chemistry Paul Williard and Professor of Neuroscience Jerome Sanes have won Fulbright Scholar Awards, which will spur efforts with collaborators in France to study cognitive flexibility in the brain and to develop new methods of measuring the physical properties of molecules. They are among 17 Brown faculty members who have been named Fulbright scholars over the last six academic years.

Van Dommelen Awarded National Geographic Grant
Joukowsky Family Professor of Archaeology and Professor of Anthropology Peter Van Dommelen has been awarded a National Geographic research and exploration grant to conduct fieldwork in Sardinia, Italy, this summer. The grant will support his ongoing excavation of the nuraghe S'Urachi, a famous tower in Sardinia dating to the Bronze Age. Van Dommelen hopes to understand how colonial domination and economic exploitation unfolded in local communities in the Phoenician-Punic period.

Brown Students Report from Nicaragua
Ten Brown students spent spring break 2015 learning to be foreign correspondents from award-winning New York Times reporter Stephen Kinzer, journalist in residence at the Watson Institute for International Studies. As part of a class on international journalism, the students traveled to León, Nicaragua for a week to report on stories of their choice, with topics ranging from adolescent suicide rates to local poetry.

Brown China Summit 2015
The Brown China Summit, an annual event created with the goal of providing opportunities for Brown students to meet with and hear presentations from leading figures in various China-related fields, was held in April. This year's theme—China's Stride Forward—represented the Chinese people's aspirations for their future. The summit was organized by undergraduate and graduate students and sponsored by the China Initiative.

Jabberwocks Travel to Hong Kong
The Jabberwocks, an a cappella group at Brown, traveled to Hong Kong this spring for a two-week tour. They sang at the Hong Kong International A Cappella Festival and attended an event hosted by the Brown University Alumni Association of Hong Kong. "The singers performed at several venues throughout the tour, including schools, public squares, and large concert halls," said Robert Lee '17, music director and tour manager for the Jabberwocks, who is from Hong Kong.

Photo: The Jabberwocks perform at the alumni gathering in Hong Kong.

Brown Awarded Grant for Partnership with Ethiopian University
Brown has been awarded a grant from the U.S. Embassy in Addis Ababa for a partnership between Brown and Addis Ababa Science and Technology University in Ethiopia. A main objective of the grant is to provide seed money for innovative partnerships between U.S. and Ethiopian universities. The grant will support training on digitalizing libraries for research networks and for improving research proposal writing and laboratory skills.