CAMPUS EVENTS

Commencement/Reunion 2015
Annual Reception for graduating international seniors and their families and international alumni/ae in reunion

May 23, 2015
5:00 – 6:30 p.m.
Rochambeau House
84 Prospect Street
E-mail for details and to RSVP.

Reunion Weekend:
May 22-24, 2015
If your class year ends in 5 or 0, celebrate your lifelong connection to Brown through your class reunion on College Hill. For those not in a reunion year, you may still participate in the procession and other non-class specific activities.


Former prime minister of Australia Julia Gillard delivered the 90th Stephen A. Ogden Jr. '60 Memorial Lecture on International Affairs. In her talk titled "Engagement in the Asian Century: The Opportunity of Our Lifetime," Gillard discussed strategic, economic, and leadership challenges as Asia rises and the lessons essential to national success in the decades ahead.


Aaron Beck '42 DMS'82 hon., P'74 GP'00 GP'02 MMS'06 MD'06 GP'08—emeritus professor in psychiatry at the Perelman School of Medicine at the University of Pennsylvania and director of Penn's Aaron T. Beck Psychopathology Research Center—was awarded an honorary Doctorate of Science by La Trobe University in Australia for his pioneering work in cognitive therapy.

Roberta Jacobson '82 has been at the head of the historic senior-level talks in Havana between the United States and Cuba. Jacobson, who serves as the assistant secretary of state overseeing the Western hemisphere, is helping negotiate the logistics of resuming diplomatic relations after decades of enmity.

Paul Kavuma '90 (Kenya), founder of Catalyst Principal Partners, discussed the changing landscape of private equity investing in Africa over the past decade in an article featured in The Economist titled "Foreign investment in Africa: A sub-Saharan scramble."

Ivan Watson '97 (Hong Kong), senior international correspondent for CNN, spoke to students at the Watson Institute about his career and how he went from studying international relations at Brown to being a foreign correspondent. Watch the Q&A session.

In January, the Brown Club of Switzerland held a luncheon in Geneva with U.S. Ambassador to Switzerland and Liechtenstein Suzan LeVine '93, who spoke about current topics in U.S.-Swiss Relations.

Kuo P'ing Chou '35 was the first Asian (and Chinese) female to attend Pembroke College, which merged with Brown University in 1971. Originally a student at Yenching University in Beijing, China, she won a Brown University scholarship and transferred to Pembroke as a junior.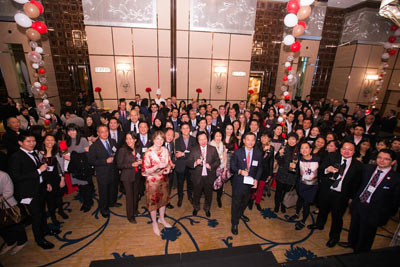 Brown Celebrates 250th Anniversary in Hong Kong
President Christina Paxson P'19 visited Hong Kong in December 2014 to celebrate the University's 250th anniversary with alumni/ae, parents, and friends. She spoke to members of the Brown community about the progress of the University's strategic plan, Building on Distinction. The visit generated extensive media coverage. Vice President Ron Margolin and Assistant Vice President Josh Taub '93 accompanied the President along with Director of the Watson Institute for International Studies Richard Locke and Dean's Professor of China Studies Edward Steinfeld.

Photo: President Paxson and members of the Brown community in Hong Kong raise their glasses in honor of the University's 250th anniversary.


Brown received major gifts and pledges from international alumni/ae and parents for various purposes including:
Resumed Undergraduate Education Fund (Europe)
Brown International Advanced Research Institutes (Spain)
Men's and Women's Golf Endowment (Canada/China)
China Initiative (Hong Kong)
Financial Aid Fund (United Kingdom)
Brown Annual Fund support from around the world
The University Endowment in FY14
Brown's endowment was established in 1763 with an initial gift of $4,500. Two hundred fifty years later, it has grown to more than $3.2 billion with gifts from generations of loyal alumni/ae, parents, and friends. There are now approximately 2,800 named endowed funds that support faculty, students, and academic infrastructure. Income from the endowment constituted 16 percent of the University's operating budget for the 2014 fiscal year (July 1, 2013 – June 30, 2014), which equates to almost $17,000 per student.

BrownConnect Creates Internships and Research Opportunities for Students
The University launched BrownConnect, an initiative built on a commitment by President Paxson. BrownConnect makes it possible for students to access a global network of alumni/ae, parents, and friends who can help them succeed by providing internships and research opportunities. If you are able to offer internships for Brown students, please contact Director of BrownConnect Aixa Kidd.

Brown Community Meets in New Delhi to Discuss India's Growth
On December 3, 2014, Executive Director of Godrej Industries and Brown Trustee Tanya Godrej Dubash '91 hosted a conversation in New Delhi featuring Chairman of Bank of America and Brown Trustee Brian Moynihan '81 P'14 and Chairman of Reliance Industries Limited Mukesh Ambani P'13 P'17. They discussed the fall of crude oil prices and the potential for India's economic growth under its new government. Ambani, who serves as co-chair of Brown's Advisory Council on India, said he believes India is on track to beat China and become the world's fastest-growing economy.

Photo: from left CNBC-TV18's Shereen Bhan, Trustee Moynihan, and Chairman Ambani.

Aga Khan Visiting Professor Gives Lecture on Omani Heritage Practices
Amal Sachedina, the 2014–2015 Aga Khan Visiting Professor in Islamic Humanities, gave a talk titled "Translating Tradition into Modernity: Refiguring Religion through Heritage Practices in the Sultanate of Oman." She spoke about the reconfiguration of the public domains of history and Islam and the resulting transformation of a previously shari'a society. Sachedina was recently a Mellon Fellow at the American Museum of Natural History.


William Dalrymple, OP Jindal Lecturer
The Brown-India Initiative has welcomed William Dalrymple, a British historian and writer based in New Delhi, as the Spring 2015 OP Jindal Distinguished Lecturer. The lecture series, organized by the Brown-India Initiative, was endowed by Sajjan and Sangita Jindal P'12 to promote serious discussion of politics, economics, and social and cultural change in modern India.

The India Initiative Annual Report 2013-2014 is available here.

China Initiative Hosts Conference on Rural China
The China Initiative hosted "Recasting the Rural: China's Transformation in a Global Context," bringing together scholars from Brown and other universities. The conference was composed of three panels that examined China's villages, environmental governance in rural landscapes, and the possible withering of rural China as a whole. It featured speakers from Singapore, Toronto, and the United States.

Brazil Initiative Features Spring Film Series
The Brazil Initiative and the Department of Portuguese and Brazilian Studies are hosting a spring film series offering a representation of urban life in Brazil's two metropolises, Rio de Janeiro and São Paulo.

Teach-In Focuses on Aftermath of Paris Attacks
The Department of French Studies, the Watson Institute for International Studies, and Middle East Studies presented "France's 9/11?," a teach-in dealing with the aftermath of the recent terrorist attacks in Paris. Topics included the status of immigrant communities, freedom of speech and its limitations, and the place of Judaism and Islam both in France and in the broader international community. Panelists included Professor of History and Judaic Studies and Dean of the College Maud Mandel and Joukowsky Family Distinguished Professor of Modern Middle East History and Director of Middle East Studies Beshara Doumani.

Colgan Wins Albie Award
Richard Holbrooke Assistant Professor of Political Science and International Studies Jeff Colgan was one of 10 winners of the Albie Award for his article "The Emperor Has No Clothes: The Limits of OPEC in the Global Oil Market." The Albies, named for influential economist Albert O. Hirschman, honor the year's best writing on political economy. Colgan's article appeared in the Summer 2014 edition of International Organization and debunked the notion of OPEC's ability to control oil prices.

Houston Receives PROSE Award
Stephen Houston—MacArthur Fellow, Dupee Family Professor of Social Science, and professor of anthropology and archaeology— has been awarded a PROSE Award for his book The Life Within: Classic Maya and the Matter of Permanence. Houston's work was chosen in the category of art history and criticism. The PROSE Awards annually recognize outstanding work in professional and scholarly publishing by bringing attention to distinguished books, journals, and electronic content in over 40 categories.

Savage Presents at Global Cyberspace Summit
An Wang Professor of Computer Science John Savage P'89 P'95 P'05 P'08 GP'17 was a presenter at the fifth Global Cyberspace Cooperation Summit in Berlin in December 2014. He contributed a working paper outlining broad recommendations for possible ways to structure the governance of the Internet. Savage is also a professorial fellow of the EastWest Institute, a global nonprofit focused on international conflict resolution, which sponsored the summit.

Brown Students Receive Rhodes, Mitchell Scholarships
Three current students and one recent graduate were announced as recipients of distinguished scholarships in November 2014. Abishek Kulshreshtha '15, Kate Nussenbaum '15, and David Adler '14 were among 32 U.S. recipients of Rhodes Scholarships, while Tara Torabi '15 was one of 12 recipients of a Mitchell Scholarship. Rhodes Scholarships provide expenses for two or three years of study at the University of Oxford in England and Mitchell Scholarships cover a year of post-graduate study in Ireland.


Brown Students Attend Climate Negotiations in Peru
A group of students had the opportunity to attend the United Nations Climate Change Conference in Lima, Peru in December 2014 as part of a class on international climate change policy taught by Ittleson Professor of Environmental Studies and Sociology Timmons Roberts, who has attended U.N. climate talks since 2003. While in Peru, students paired up with representatives of developing countries to help with research, writing, and translation.

Brown and Santander Renew BIARI Partnership
In November 2014, Santander Bank renewed its partnership with Brown to provide an additional three years of support for the Brown International Advanced Research Institutes (BIARI). Launched in 2009, BIARI brings together promising young scholars from around the world for two-week intensive summer institutes to share research, engage in a high-level intellectual and policy dialogue, and build scholarly networks to foster long-term collaborations. Since its inception, 853 scholars and practitioners from 101 countries have participated in BIARI.

Photo: President Paxson (left) and Roman Blanco, president and CEO of Santander Bank and Santander Holdings USA, signing the agreement at Brown in the Watson Institute's Kim Koo Library.
Credit: Mike Cohea/Brown University

Brown Helps Release India Citizenship Index Report
In collaboration with Janaagraha, Professor of Sociology and International Studies Patrick Heller, Sol Goldman Professor of International Studies and the Social Sciences and Director of the Brown-India Initiative Ashutosh Varshney, and Siddharth Swaminathan of Azim Premji University coauthored the Janaagraha-Brown Citizenship Index Report, which seeks to understand and evaluate citizenship and citizen rights in urban India. Janaagraha is a nonprofit organization based in Bangalore that works to improve the quality of life in Indian cities and towns. The report was released in December 2014 as part of the Brown-India Initiative and has garnered international media attention.