In July, University Organist Mark Steinbach will give concerts followed by receptions in Paris and Berlin:


July 2 – Paris
8:00 p.m.-9:00 p.m.
The Capital Club
5 Notre Dame Cathedral, 6 Parvis Notre-Dame - Pl. Jean-Paul II, 75004 Paris
Contact: Julia Feldman '06

July 15 – Berlin
5:00 p.m.-6:00 p.m.
St. Nikolai-Kirche, Nikolaikirchplatz
10178 Berlin
Contact: Sarah Baumchen AM'09

August 15 – Rio de Janeiro
Professor of Political Science Corey Brettschneider will speak about "Social Rights to Welfare and Other Goods." Contact: Renato Rocha SCM'94

September 28 – Geneva
The Brown Club of Switzerland will host U.S. Ambassador to Switzerland and Liechtenstein Suzan LeVine '93. Contact: Clara Mathieu Gotch '00


Brown made 2,919 offers of admission to the Class of 2020: just nine percent of the 32,390 students who applied. It was the largest applicant pool in the school's history. Students from 83 nations are represented in the admitted class, the top five countries being China, the United Kingdom, India, Korea, and Canada.

Alissa Rubin '80, of The New York Times won the 2016 Pulitzer Prize in International Reporting for movingly written accounts giving voice to Afghan women who were forced to endure unspeakable cruelties.

Thomas Catena '86, medical director at Mother of Mercy Hospital in the war–torn Nuba Mountains of central Sudan, received an honorary degree of Doctor of Medical Science from Brown during its 248th Commencement in May. He was cited as one of TIME magazine's 100 most influential people of 2015.

Katia Lund '89 (Brazil), a film director, has joined the advisory board of We Do It Together, a nonprofit film production company created to finance and produce films, television, and other forms of media dedicated to the empowerment of women.

Oliver Haarmann '90 (United Kingdom), a founding partner of Searchlight Capital, was recently interviewed by Bloomberg. He spoke about his perspective on risk in the private equity business and his firm's investment strategy.

Malika Kapur '97, CNN's Mumbai correspondent, emphasizes human stories that illustrate social problems. Her reports include a story about a local disabled, homeless boy, which brought an outpouring of support for the boy and attention to India's scarcity of proper treatment for disabled people. Kapur also covered stories exposing human trafficking for CNN's Freedom Project.

Evan Silver '16 has been awarded a 2016–17 Luce Scholarship and will spend a year living and working in Asia. Established in 1974 by Henry Luce, this highly selective grant program is designed to enhance young leaders' understanding of the region.



In April, the Brown Club of the United Kingdom hosted a reception with Director of the Institute at Brown for Environment and Society (IBES) Amanda Lynch for students accepted to the Class of 2020. Lynch spoke about work and research at IBES. Assistant Vice President for International Advancement Josh Taub '93 and Regional Director for International Advancement Jennifer Gibbons also attended the event.

Jacob Hayman, Class of 1894, came from Russia and entered Brown as a senior in 1893 after studying at the University of Vermont. He graduated with a civil engineering degree and was able, with the intercession of President Elisha Benjamin Andrews, to continue his studies at Columbia. He is the first known Brown graduate from Russia.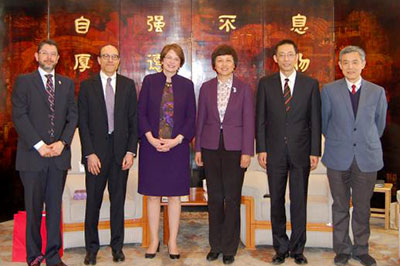 President Paxson Visits Leading Universities in China
President Christina Paxson traveled to Beijing and Shanghai from March 27 to April 2 to explore opportunities for collaboration and to further increase Brown's profile as an institution committed to addressing the world's most pressing challenges. She delivered presentations on "Knowledge Without Borders: University Collaboration in a Global Era" at Tsinghua University and "Universities: Pathways to Knowledge and Our Global Future" at Fudan University. President Paxson also met with alumni and parents in both cities. Click here to view details.

Photo: From left, Assistant Vice President for International Advancement Josh Taub '93, Director of the Watson Institute for International and Public Affairs and Director of the China Initiative Edward Steinfeld, and President Paxson with leaders at Tsinghua University.



Brown received gifts and pledges from international alumni, parents, and friends for various purposes, including:
Professorship in China Studies (Hong Kong)
Fernando Henrique Cardoso Professorship (Brazil/New York)
Postdoctoral Fellowship at the Watson Institute for International and Public Affairs (United Kingdom)
Scholarship for Korean Students (Korea)
Teaching Assistants in Economics (Hong Kong)
Brown Athletics – Sailing
Endangered Scholars Fund (United Kingdom)
Brown Annual Fund Scholarship (Japan)
Brown Is Global: Have a Local Impact
The international and U.S. regions with the highest percentages of Annual Fund donors will earn a Brown Annual Fund Scholarship for a local student. If you would like to make a gift and help support a student from your region at Brown, please visit the Brown Annual Fund BIG Challenge.

Brown among Top Fulbright Scholar Producers
Brown is one of the top-producing institutions for Fulbright scholars, according to an annual listing by The Chronicle of Higher Education.

U.S. Energy Secretary Discusses Iran Deal, Global Security
U.S. Secretary of Energy Ernest Moniz, a key negotiator of the Iran deal, delivered the 92nd Stephen A. Ogden Jr. '60 Memorial Lecture on International Affairs. During his presentation "The Iran Deal, Non-Proliferation and Global Nuclear Security," Moniz discussed the role of that deal in improving U.S. national security. He also highlighted the role that Department of Energy scientists and technical experts played in ensuring unprecedented scientific verification in the deal.

Rio: A Visual Dialogue over 150 Years
Photographs of Rio de Janeiro by Marc Ferrez and Robert Polidori were presented at the Watson Institute for International and Public Affairs. Ferrez photographed Rio de Janeiro during the second half of the 19th century and in the first two decades of the 20th century; Polidori documented the city from 2002 to 2014. The exhibit was organized by Instituto Moreira Salles (Brazil) and co-sponsored by Art at Watson, the Brazil Initiative, and the Creative Arts Council.

Brown China Summit 2016
The China Initiative sponsored the 2016 Brown China Summit, "A China for Everyone," which was organized by a team of undergraduate and graduate students. This two-day, annual springtime conference introduces students and the campus community to leading thinkers of contemporary China. Panel discussions at this year's conference focused on education, foreign policy, and social and technological entrepreneurship.

O.P. Jindal Distinguished Lectures
The Brown-India Initiative welcomed Salman Khurshid, India's former minister of External Affairs, as the spring 2016 O.P. Jindal Distinguished Lecturer. He delivered lectures on "India's Muslims Since Independence" and "India-Pakistan Relations: Can We Move Forward?" The lecture series was endowed by Sajjan and Sangita Jindal P'12 to promote a serious discussion of politics, economics, and social and cultural change in modern India.

Shakespeare Folio at Brown
Brown hosted the traveling exhibition "First Folio! The Book That Gave Us Shakespeare," with a series of events and exhibits. Published in 1623 by two of William Shakespeare's friends, the First Folio is the collected edition of his plays and includes works that were not published during his lifetime. To celebrate the cultural preservation and to mark the 400th anniversary of Shakespeare's death, the Folger Shakespeare Library in Washington, D.C., is sponsoring the nationwide tour.

Annual International Reception
On May 28, the Office of International Advancement hosted its annual reception for graduating international students and alumni in reunion at Rochambeau House. During the celebration, Brown International Scholarship Committee outgoing president Carolina Guzman Holst '16 (Panama) and incoming president Bilal Thiam '17 (United Kingdom) spoke to 300 attendees about the importance of instituting need-blind admission for international students. Julmar Carcedo Jr. '16 (Philippines)—an International Brown Annual Fund Young Leaders Group Scholarship recipient—also spoke about how the scholarship allowed him to attend Brown University and achieve his dream. View video of his remarks.

Photo: Julmar Carcedo Jr. speaking at the reception.

Steinberg Named President of the American Academy in Berlin
Vice Provost for the Arts Michael Steinberg was named the next president of the American Academy of Berlin. Steinberg—whose academic expertise spans history, music, and German studies—will begin an extended leave of absence in August to take on his new role.

Founded in 1994 at the initiative of the late Richard Holbrooke '62 LLD'97, then the U.S. ambassador to Germany, the Academy is committed to maintaining the intellectual, cultural, and political ties between the United States and Germany.

Kertzer's Book to Be Filmed
A film based on The Kidnapping of Edgardo Mortara—a 1997 nonfiction book published by David Kertzer '69 P'95 P'98, the Paul R. Dupee Jr. University Professor of Social Science and professor of anthropology and Italian studies—will be directed by Oscar–winning filmmaker Steven Spielberg LHD '99 P'98 P'12. The book gives a historical account of a six–year–old Jewish boy in 19th century Italy who was seized from his home, raised by the Pope, and ordained into the Catholic priesthood.

Singh Authors a New Book
Prerna Singh, Mahatma Gandhi Assistant Professor of Political Science and International and Public Affairs, recently published How Solidarity Works for Welfare: Subnationalism and Social Development in India. Singh explores why some states in India have social development outcomes that are worse than countries in sub-Saharan Africa, while other states have welfare levels equivalent to those in industrialized countries.

Graduate Student Honored by Chinese Government
Yuanyuan 'Alvin' Zhou, a Ph.D. candidate in the School of Engineering, has been honored by the Chinese government with its Outstanding Students Abroad Award. Zhou's work focuses on perovskites, a class of materials with potential for use in versatile, low–cost solar cells.

Students Awarded Grand Prize at Thought for Food Global Summit
A team that included Maya Faulstich–Hon '17.5 and Viraj Sikand '17.5 received a grand prize of $10,000 for their project Kulisha at the Thought for Food Global Summit in Zurich, Switzerland. The goal of Kulisha is to revolutionize food production in Kenya by turning insects into sustainable fish feed.

Photo credit: Thought For Food

Student-Athlete International Travel
During the past year, the Brown women's crew team raced at the Henley Royal Regatta in England; the men's and women's basketball teams played in Italy; women's soccer had exhibition games in France, Italy, and Spain; men's ice hockey competed in Northern Ireland; women's rugby had matches in the Czech Republic and Switzerland; and men's soccer played in Argentina.

Generous support from our alumni, parents, and friends makes possible these invaluable, life–changing experiences for our student-athletes. If you would like to make a gift to support international travel for Brown Athletics, please contact the Sports Foundation at sports_foundation@brown.edu.

Photo: The women's crew team at Henley.


Brown Collaborates with University of Cape Town
Several faculty from the School of Public Health—including Professors Mark Lurie, Abigail Harrison, Caroline Kuo, and Don Operario—recently traveled to South Africa for a scholarly retreat with University of Cape Town faculty and fellows in the South African Social Science and HIV Programme (SASH). Established in 2013, SASH is a joint project of Brown and the University of Cape Town.

Photo: Retreat participants outside Cape Town.
For more information about the Brown University Office of International Advancement, or to unsubscribe from this newsletter, please email internationaladvancement@brown.edu. We also welcome your comments, critiques, ideas, news, and stories for future issues of our newsletter.