Join Brown alumni, parents, and friends for a reception with President Christina Paxson, Edward Steinfeld, director of the Watson Institute for International and Public Affairs and director of the China Initiative, and Josh Taub '93, assistant vice president for International Advancement


Beijing - March 29
6:00 p.m.-7:30 p.m.
The Capital Club
50F Capital Mansion
6 Xin Yuan Nan Road
Chao Yang District
Beijing

Shanghai - March 31
6:00 p.m.-7:30 p.m.
Villa Le Bec
No.321 Xinhua Road
Changning District
Shanghai

RSVP to Connie DiPanfilo at International_events@brown.edu


Commencement/Reunion 2016
Annual Reception for graduating international seniors and their families and international alumni in reunion

May 28
5:00 p.m.-6:30 p.m.
Rochambeau House
84 Prospect Street
E-mail for details and to RSVP.

Reunion Weekend:
May 27-29
If your class year ends in 1 or 6, celebrate your lifelong connection to Brown through your class reunion on College Hill. For those not in a reunion year, you may still participate in the procession and other non-class specific activities, including a reception for international alumni and graduating seniors.

Alumni Reunion Forum
May 28
11:00 a.m.-noon
A panel of prominent alumni in reunion, including Ambassador Richard Olson '81 P'14, U.S. Special Representative for Afghanistan and Pakistan, will speak about topics related to their specialty.

April 14 - Rome
David Kertzer '69 P'95 P'98, the Paul R. Dupee Jr. University Professor of Social Science and professor of anthropology and Italian studies, will speak about his book The Pope and Mussolini: The Secret History of Pius XI and the Rise of Fascism in Europe.
Contact: Jeffrey Greenbaum '81

June 9 - London
Professor of Neuroscience Diane Lipscombe P'14 will speak about the Brown Institute for Brain Science.
Contact: Catherine Harbour '92

In July, University Organist Mark Steinbach will have concerts followed by receptions in Paris and Berlin:

July 2 - Paris
8:00 p.m.-9:00 p.m.
Notre Dame Cathedral, 6 Parvis Notre-Dame - Pl. Jean-Paul II, 75004 Paris
Contact: Julia Feldman '06

July 15 - Berlin
5:00 p.m.-6:00 p.m.
St. Nikolai-Kirche, Nikolaikirchplatz, 10178 Berlin Contact: Sarah Baumchen AM'09

Juliana Fusco '82, the Andrew Banks Endowed Professor of Art at the University of Florida, has been awarded the 2016 Greenfield Prize in visual art to make a documentary film about Cuban artist Juan Carlos Cremata.

Susan Byrnes '90 has joined Malaria No More, a global health and advocacy organization, as managing director of strategic communications. Prior to joining Malaria No More, she served as chief communications officer at the Bill & Melinda Gates Foundation.

Pierre-Alexis Dumas '91 (France), artistic director of Hermès International, has been elected chairman of Les Arts Décoratifs, one of the largest private cultural institutions in France. The institution was founded in 1882 by creators, collectors, and industrialists intent on applying the fine arts to industry.

Jenny Urizar '03, senior advisor in the Office of Global Partnerships at the U.S. Department of State, was named to the inaugural "40 Under 40: Latinos in Foreign Policy" list by The World Post, a partnership of The Huffington Post and the Berggruen Institute.

Noah Elbot '14 and Max Song '14 were named as inaugural recipients of the Schwarzman Scholarship, a competitive master's degree program modeled after the Rhodes Scholarship. Recipients of the scholarship will study at Schwarzman College, specifically constructed for the program and located on Tsinghua University's campus in Beijing.

Emma Watson '14 (United Kingdom) has been named a visiting fellow at Lady Margaret Hall of Oxford University.

Louisa Chafee '14 has won a spot in the U.S. Olympic sailing team to compete in the 2016 Summer Olympic Games in Rio de Janeiro, Brazil, after her performance at the world championships in Clearwater, Florida.

Andrew Kaplan '15 won a 2016 Rhodes Scholarship and will begin a master's degree at Oxford University in comparative social policy with an emphasis on housing. Kaplan, a political science concentrator at Brown, discussed the issue of rising homelessness in New York City in his senior thesis.

In the 1920s, the University established a Brown-in-China program, which was designed to support a School of Social Science at Shanghai College. The program was led by Daniel Kulp, Class of 1913, who had already spent six years at Shanghai College.

As part of this program, James Dealey, Class of 1890, spent a semester teaching at Shanghai College in 1921-1922. More than 100 of Dealey's photographs are stored in the University Archives along with background information about his trip.

In 1923-1924 Harold Bucklin, Class of 1910, also served as a professor of sociology at Shanghai College. Bucklin and his students conducted a social survey of the Chinese village of Sung-Ka-Hong. This survey was published in English and Chinese, and copies are available in the University Archives.

Herbert Lamson, Class of 1924, joined the Brown-in-China effort in social work and teaching in Shanghai in 1926, but returned in the spring of 1927 because of unsettled conditions in China.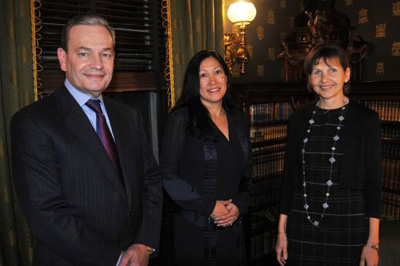 Brown Corporation Elects New Officers
The Corporation of Brown University, the University's governing body, has elected its new officers, who will begin their terms on July 1. Samuel Mencoff '78 P'11 P'15—a member of the Corporation since 2003—will become the University's 21st chancellor, succeeding Thomas Tisch '76 P'18, whose nine-year service as chancellor concludes on June 30. Alison Ressler '80 P'09 P'10 P'13 P'15, currently the Corporation's treasurer, will serve as vice chancellor, and Theresia Gouw '90 will become treasurer.

The Corporation, a bicameral body composed of a Board of Fellows with 12 members and a Board of Trustees with 42, is responsible for selecting the president; siting buildings; setting the budget, tuition and fees; establishing policy and strategic plans; appointing faculty and senior administrative officers; and accepting gifts and naming opportunities.

Photo: From left, Samuel Mencoff, Theresia Gouw, and Alison Ressler.
Credit: Frank Mullin/Brown University


Brown received major gifts and pledges from international alumni, parents, and friends for various purposes, including:
Fernando Henrique Cardoso Professorship (Brazil)
Brown China Initiative (Hong Kong)
Brown India Initiative (India/United States)
Endowed Scholarships (United Kingdom and Hong Kong)
BrownConnect Internships (Hong Kong)
Computer Science Undergraduate Teaching Assistant Fund (Canada)
Brown Annual Fund Scholarship (Turkey)

The Jonathan M. Nelson Center for Entrepreneurship
With a $25 million gift from Jonathan M. Nelson '77 P'07 P'09, the University will establish the Jonathan M. Nelson Center for Entrepreneurship, an interdisciplinary center for entrepreneurship learning and research that will be unique in higher education.

Brains in Crisis: Stress and Resilience in Syrian Refugee Children
On April 8 and 9, Middle East Studies will host its Fourth Annual Engaged Scholarship Conference. This year's theme will be "Brains in Crisis: Stress and Resilience in Syrian Refugee Children." President Paxson will join a panel of distinguished neuroscientists, historians, anthropologists, and NGO practitioners. In preparation for this conference, a Brown-based team recently conducted field visits to Syrian and Palestinian refugee camps in Jordan. The conference is co-sponsored by the Brown Institute for Brain Science and the Department of Cognitive, Linguistic, and Psychological Sciences. Conference details available here.

International Conference in Brazilian Studies
The secretariat of the Brazilian Studies Association (BRASA)—the largest international academic organization for researchers in Brazilian studies outside of Brazil—officially moved to Brown in July 2015 from its former home at the University of Illinois Urbana-Champaign. BRASA's 13th International Conference in Brazilian Studies will take place on the Brown campus from March 31 through April 2.

The 2015 Brazil Initiative Newsletter is available online.

China Initiative Research Seminar
The China Initiative hosted a seminar on "The Many Visible Hands in the Making of US-China Trade Liberalization" with Associate Professor of Sociology Ho-Fung Hung from Johns Hopkins University. The research seminar provides a forum for the presentation of cutting-edge social science research on contemporary China and encourages the presentation of research work-in-progress.

The 2014-2015 China Initiative Annual Report is available online.

India Initiative Presents Book Adda
The Brown-India Initiative added a new component to its programmatic focus: panel discussions on important new books. As part of the program, Book Adda, the Initiative hosted a discussion on Kanchan Chandra's Democratic Dynasties: State, Party and Family in Contemporary Indian Politics. Speakers included Kanchan Chandra from New York University; Anjali Bohlken from University of British Columbia; Pradeep Chhibber from University of California, Berkeley; Daniel Smith from Harvard University; and Ashutosh Varshney, Sol Goldman Professor of International Studies and the Social Sciences and director of the Brown-India Initiative.

The 2014-2015 India Initiative Annual Report is available online.

Brown International Advanced Research Institutes in Spain
The first regional Brown International Advanced Research Institutes (BIARI) was held in Spain in January. The topic, Global Health Politics, attracted 22 academics and practitioners from 21 institutions in 10 countries in Europe. Made possible by the generous ongoing support of Santander Universities (Spain), BIARI has brought young scholars from around the world to Brown every summer since 2009 for interdisciplinary lectures, seminars, and workshops. Starting this year, in addition to its summer institutes, BIARI will host regional January institutes in different parts of the world to expand its reach.

Photo: Keynote speaker María Teresa Fernández de la Vega (front row, third from right), first deputy prime minister under former Spanish Prime Minister José Zapatero, stands between BIARI director Matthew Gutmann P'14 and Nitsan Chorev, Harmon Family Professor of Sociology and International and Public Affairs.

Gao Elected to Chinese Academy of Sciences
Huajian Gao, Walter H. Annenberg Professor of Engineering, has been elected as a foreign member of the Chinese Academy of Sciences (the highest honor from the Chinese scientific community) for his achievements and contributions made to promoting and developing science and technology in China. His previous awards and honors include the Rodney Hill Prize in Solid Mechanics (highest international award in mechanics), the Alexander von Humboldt Research Award (highest German award for international scientists), and a Guggenheim Fellowship.

Smith Receives the Elliott P. Skinner Book Award
Daniel Smith, Royce Family Professor of Teaching Excellence and professor of anthropology, received the prestigious Elliott P. Skinner Book Award of the Association for Africanist Anthropology for his latest book, AIDS Doesn't Show Its Face: Inequality, Morality, and Social Change in Nigeria. His book uses AIDS as a lens through which to view Africa by describing dramatic social changes manifest through inequalities of gender, generation, and social class.

Gandhi Addresses Italian Parliament on Nonviolence
Leela Gandhi, John Hawkes Professor of the Humanities and English, delivered a keynote address on "Non-Violence" to the Italian Parliament during a ceremony on the eve of the International Day for the Elimination of Violence Against Women.

Ortega, One of Most Influential Spanish American Intellectuals of 2015
Julio Ortega, professor of Hispanic studies, is among esglobal's top 50 influential "iberoamericanos." Candidates are selected based on their contributions to a field and their influence in the Latin American or international environment.

Anderson Delivers Oxford's Clarendon Lectures
Amanda Anderson, the Andrew W. Mellon Professor of Humanities and English and the director of the Cogut Center for the Humanities, was chosen to deliver Oxford University's distinguished Clarendon Lectures in English 2015.

Cook's Research in Russia Funded by Fulbright
This spring, Linda Cook, professor of political science and professor of Slavic studies, is in Moscow and the Republic of Karelia. She is studying disparities in health care for poor and upper-income Muscovites as well as Karelia's rural population. Cook received a Fulbright Scholarship in 2015 to work on her book, Political Economies of Health Care in Russia's Fragmented Welfare State.

Brown at U.N. Climate Change Summit in Paris
A group of students led by the Ittleson Professor of Environmental Studies J. Timmons Roberts attended the United Nations Framework Convention on Climate Change 21st Conference of the Parties in Paris. With delegates from 190 countries in attendance, the goal of the summit was to achieve a legally binding universal agreement on climate. While observing how international negotiations and treaties were made, students had the opportunity to research and assist various global organizations.

Photo: Students attending the U.N. climate talks in Paris with Professor Roberts and U.S. Senators Sheldon Whitehouse (Rhode Island) and Cory Booker (New Jersey).

Students Create Digital Museum Experience for Nobel Exhibit
Under the direction of computer graphics pioneer Andy van Dam, the Thomas J. Watson Jr. University Professor of Technology and Education, a group of computer science undergraduates created two new digital museum experiences included in a traveling exhibition dedicated to the history of the Nobel Prize. Team leader Trent Green '18 flew to Singapore to install the exhibit, which was later on show at the ArtScience Museum in Singapore.

Photo: Nobel interactive digital exhibit
Credit: Trent Green

Student Fights Islamophobia
Amara Majeed '19, founder of the Hijab Project, was featured as part of Good Morning America's #GirlPower series, which profiles inspiring and strong women. She started the Hijab Project to break down the stigma attached to the headscarf that is worn in public by some Muslim women. Majeed also authored The Foreigners, which she hopes will eradicate stereotypes about Muslims.


Brown, University College London, and Universidade Estadual de Campinas Collaborate
Suzanne Stewart-Steinberg, professor of Italian studies and comparative literature, is collaborating with researchers from University College London and Universidade Estadual de Campinas (Brazil) on the project Re-imagining Italianitá: Opera and Musical Culture in Transnational Perspective. The project investigates the 19th-century Italian opera industry on a global scale in order to assess existing ideas on the relationship between music and national identity.

Global MBA Ranking 2015
IE Business School in Spain, which shares programming with Brown University for a joint executive MBA degree, ranked #12 in the Financial Times global MBA rankings.

Summer Undergraduate Research Program in Hong Kong
Brown's partner institution Chinese University of Hong Kong (CUHK) is offering the Summer Undergraduate Research Program 2016, which enables students in all academic disciplines to develop research skills and knowledge in a specific area of interest. Participating students will conduct a research project under the supervision of a CUHK faculty member.

For more information about the Brown University Office of International Advancement, or to unsubscribe from this newsletter, please email internationaladvancement@brown.edu. We also welcome your comments, critiques, ideas, news, and stories for future issues of our newsletter.