An Interview with Lois Lowry '58 LITTD'14 hon.
Listen now on Spotify, Stitcher, Soundcloud or Youtube
At 82, Lois Lowry '58 LITTD'14 hon. is showing no signs of slowing down. With more than 40 titles published over her career spanning five decades, Lowry is renowned for her ability to thoughtfully address challenging subject matters with middle-grade and young adult readers. Two of her most popular published works, The Giver and Number the Stars, earned Newbery Medals awarded by the Association for Library Service to Children.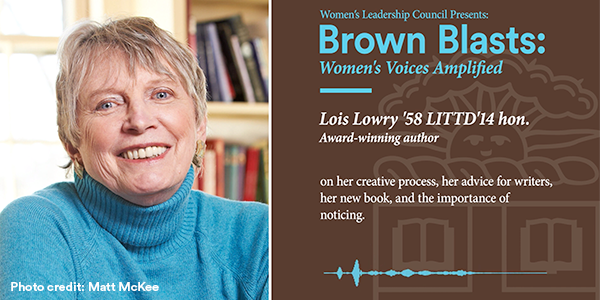 In this latest episode of Brown Blasts: Women's Voices Amplified, Lowry sits down with Caitie Whelan '07.5 to discuss Brown's influence on her life and work and her sources of inspiration: namely, her love of children, memories of her own childhood, and her fascination with human interconnectedness. Knowing the profound effect literature can have on young minds, Lowry feels a strong sense of importance in writing for children, so she takes special care in each book she publishes. "I think that's what any writer hopes for—that they affect individuals in a very powerful way," says Lowry. "And it's very gratifying when somebody lets you know that that has happened to them."
Listen now or browse all episodes on Spotify, Stitcher, Soundcloud or Youtube