Spring Newsletter
May 1, 2018
Dear members of the Brown veterans community,
On March 9, 2018, we held the inaugural meeting of the Brown University Veterans Alumni Council (BUVAC) board in Providence, RI. The board has fourteen members and is the culmination of years of advocacy and hard work. BUVAC was formed by a group of alumni, parents and Brown community members interested in finding ways to support Brown students who are veterans or enrolled in Brown's ROTC programs and to share and promote military-related news and activities on campus. Here, in our biannual newsletter, we will highlight upcoming events and share news about our veteran and ROTC students on College Hill.
If you have classmates who might be interested in Brown military-related news and events, they may email veterans@brown.edu to be added to our email list. We are excited to spread the word about BUVAC and share news about Brown veteran and ROTC students.
We hope to see you on campus this Memorial Day Weekend for the annual Graduating Veterans Recognition, Commissioning Ceremony and Reception on May 26! Details below.
Sincerely,
Larry Eichler P'09
Co-President, BUVAC
Joseph H. Santarlasci Jr. '67
Co-President, BUVAC
Upcoming campus events: mark your calendar!
Saturday, May 26 | 4:30 – 5:15 pm
Graduating Veterans Recognition, Commissioning Ceremony and Reception
Front Green, in front of University Hall. Rain Site: Rhode Island Hall, Room 108, 60 George Street
Celebrate the success of graduating student veterans and witness the commissioning of graduating ROTC students as they begin their careers in the armed forces.
A reception in memory of Robert T. Steinsieck, Jr. '68, who lost his life in Vietnam, will follow. All are welcome to connect across classes, talk with current student veterans and hear about recent Brown initiatives.
Saturday, May 26 | 11:00 am
Alumni Reunion Forum – Improvisation and Innovation: Responding to Global Disasters and Crises
MacMillan Hall, Room 115, 167 Thayer Street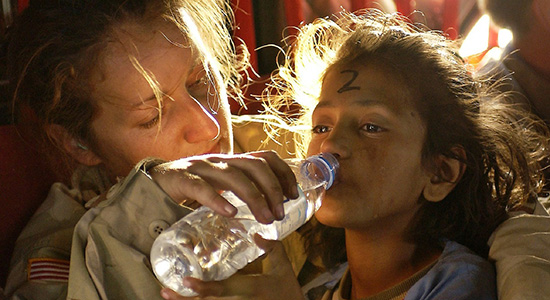 In a panel discussion moderated by Adam Levine, associate professor of emergency medicine at the Warren Alpert Medical School and director of the Humanitarian Innovation Initiative, learn from Brown alumni who are working to address the critical needs of populations affected by disasters and crises. Find out how they hope to improve the delivery of humanitarian assistance to vulnerable populations around the world.
Sunday, November 11
Veterans Day Ceremonies
College Hill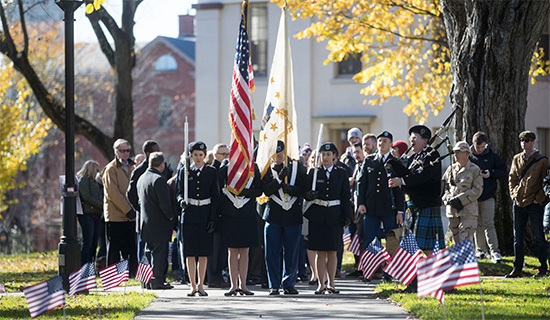 Planning is in the works for the 2018 Brown Veterans Day ceremonies! As the date nears, check the Student Veterans and Commissioning Programs website for details. In the meantime, read up on coverage of the 2017 Veterans Day ceremonies.
Support for veterans at Brown: New group holds its first official meeting
The Brown University Veterans Alumni Council (BUVAC) Board of Directors held its first official meeting on March 9, 2018, in Providence.
At the meeting, a wide-ranging discussion ranged from a review of the council bylaws to the Brown ROTC Mentorship pilot program. Many ideas were shared about how support and mentorship can be provided for veteran and ROTC students and how to attract veterans to apply to Brown.
At a reception following the meeting, Karen McNeil, Director of the Student Veterans and Commissioning Office, presented an overview of military programs at Brown – past and present – followed by a lively question-and-answer session. Among the approximately 50 guests were current Brown students who are veterans and in the Brown ROTC program. Students and alumni enjoyed the opportunity to connect and trade stories about their military experiences.
About BUVAC's pilot mentoring program
Connecting Mentors and Students
As its first initiative, BUVAC has launched a small mentoring program. Based on feedback from current student veterans, three student veterans have been paired with three Brown veteran alumni mentors. Over the course of the next school year, the pairings will explore topics such as broadening their networks, learning about post-graduation military experience, and how to navigate their chosen careers.
Translating experience into opportunity
Brown has engaged a career coach and workshop facilitator, Natascha F. Saunders, to help student veterans create their own military-to-civilian roadmap. Saunders is currently working with the three mentees to help them translate their military experience and education in to a post-graduation position. "I have found the interaction with the veterans to be transformational," says Saunders. "In the first few sessions, the veterans crafted a vision statement, mapped out 30-60-90-365 day goals, organized a resource library, and identified a personal advisory board."
Davin Lewis '20, a Navy veteran and business economics concentrator, says working with Saunders has helped him look beyond his four years at Brown. "Working with Natascha, I created a vision for where I would like to be in my career 5 and 10 years from now and I have outlined the steps necessary to get there," says Lewis. "Only a few days after I created my 5 year vision, I was asked in an internship interview where I saw myself in 5 years and was excited to have a great well-thought-out answer."
Meet Senior Caleb Walters '18, MD'22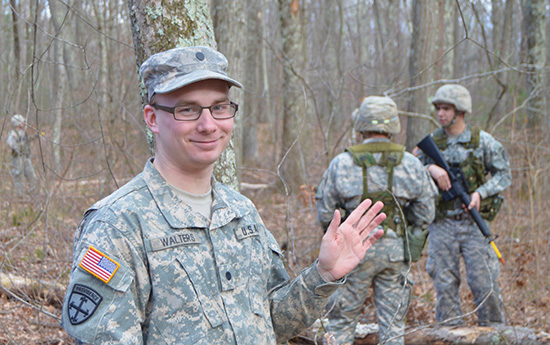 Before he graduates this spring, we sat down with ROTC senior, neuroscience concentrator, and PLME student Caleb Walters to discuss his military experience at Brown. Here's what he had to say:
What brought you to Brown/ROTC at Brown?
"I chose Brown because of the Program in Liberal Medical Education (PLME) combined with the opportunity to be in ROTC. PLME combines undergraduate and professional studies in medicine in a single eight-year program. I come from a long line of family members who have been in the military; my grandfather and father both served and it is something that I have always wanted to do. So I was happy to find this great combination at Brown."
How was your Brown ROTC experience?
"My peers have been very open and curious about ROTC and why I chose to be a part of the program! The Brown faculty has been very understanding about my sometimes challenging schedule. ROTC commitments and my class commitments sometimes overlap and I have found that as long as I am communicating with my professors, they are willing to work with me. It has been a great exercise in understanding the importance of communication!"
Introducing the BUVAC Officers and Board of Directors
Larry Eichler P'09, Co-President
Joseph H. Santarlasci '67, Co-President
Linda Lou Borges-DuBois '76, Co-Vice President
Joseph Di Chiaro, Jr. '60, Co-Vice-President
Peter Donnelly '09, Treasurer
David Salsone '13, Assistant Treasurer
Theron Hamilton AM'03 PhD'07, Secretary
Michael Zaskey '17 MD '21, Assistant Secretary
James P. Cunningham '72
Jonathan Hillman '09
Manuel "Manny" Menezes '64
Matthew Ricci '15
Mathies J. Santos '77
Scott N. Quigley '05