Fall 2020 Newsletter
In this issue:
Special Veterans Day announcement • Meet current veteran and ROTC students • Alumni veteran impact • Did you know? • News of note • Update, share, and learn more • Stay connected
Good news on Veterans Day: gift will support financial aid for Brown student veterans
During Brown's virtual Veterans Day Ceremony, President Christina H. Paxson announced a generous gift from Joseph P. Healey P'22, P'24—U.S. Army veteran, son of a Brown alumna, and parent to two Brown students—that will create a permanent endowment for a scholarship for veterans.


Of the total $20 million gift, $10 million will fund the Elaine and Joseph Healey Scholarship for Veterans. The additional $10 million, a bequest, will establish a scholarship for students in Brown's Resumed Undergraduate Education (RUE) program.


Watch Brown's 2020 Veterans Day Ceremony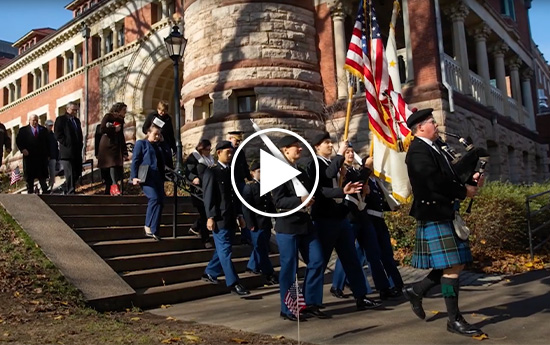 "A Brown degree is a ticket that opens doors for the rest of your life," says Healey. "To give veterans who have served our country a chance to attend Brown—the way that Brown gave that chance to my mom, and the military gave a chance to me—was a unique opportunity to return an investment that was made in my mother and in me."


This news comes exactly one year after President Paxson announced plans to more than double the number of veterans enrolled as undergraduates and to offer increased financial aid for student veterans. Today, Brown is home to 26 undergraduate student veterans—up from 21 in 2019 (a 24% increase)—and eight medical student veterans.


With the gift from Healey, Brown has reached $11.3 million in funds raised toward the $25 million endowment required to admit veterans through a need-blind process and provide full financial support during their time at Brown, according to Joan Wernig Sorensen '72 LHD'19 hon., P'06, P'06, a BrownTogether campaign co-chair who is leading fundraising efforts to support the initiative for veterans.
Meet student veteran Seth Bae '22 and ROTC cadet Raquel Ruiter '23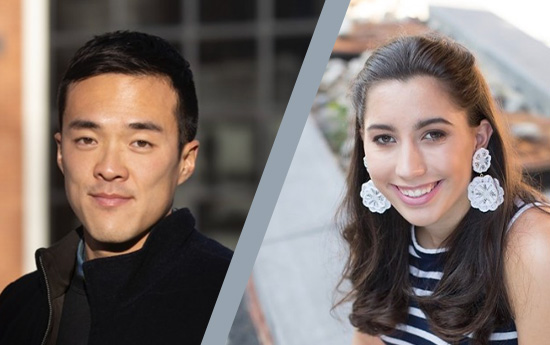 An Army veteran, Seth Bae '22 has chosen a concentration in International and Public Affairs that will allow him to apply his practical experience to his education. As a first-generation American and college student, Bae's career plans involve empowering and inspiring people who share his background.

With a passion for languages and an interest in pursuing a career in the Air Force's intelligence community after graduation, Raquel Ruiter '23 is studying Russian and International and Public Affairs at Brown. After her service in the Air Force, Ruiter hopes to pair her experience with an advanced degree in business that would lead to a second career in finance or consulting.

What drew you to Brown?
Bae: "I was particularly drawn by Brown's relentless support for students with unconventional backgrounds. The RUE program and broad non-traditional student and veteran communities manifest Brown's awareness of socioeconomic diversity and commitment to creating inclusive communities."
Ruiter: "I recently participated in ROTC's language acquisition summer program, Project GO. I love learning about other languages! Accordingly, one of my favorite parts of Brown is the flexibility to connect and interlink my academic and military education. Taking full advantage of the Open Curriculum — everything from Bible classes to immunology — has provided me with a new perspective."
Tell us about your ROTC or Student Veteran Society (SVS) leadership experience to date.
Bae: "My military experience in the U.S. Army allowed me to understand what it means to serve others, and I'm grateful that I can continuously serve my fellow student veterans at Brown as one of the SVS Vice Presidents of Programming. Despite the COVID-19 pandemic, SVS President Noah Landwerlen '23 has been actively engaged with other leaders in our society and reached out to incoming student veterans. I am deeply inspired by his dedication and looking forward to serving our society with him."
Ruiter: "At Detachment 340, the three principles of a successful ROTC career are: family, fun, and fundamentals. Each cadet and midshipman reflects these values in the ROTC community. Brown encourages each of us to express and share our passion for public service with our peers, professors, and faculty. I am thankful to be a part of ROTC at Brown."
Alumni veteran impact: V. Donald Russo '50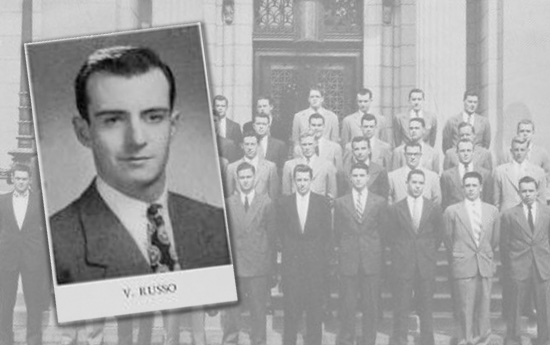 As an attorney for the plaintiffs in the class action lawsuit that would later be known as the Agent Orange case, the late V. Donald Russo '50 had a lasting impact on the lives of millions of Vietnam War veterans.
A former service member himself, Russo served in the Navy in the final months of World War II. Russo's family connections with the University—his father and three brothers had all gone to Brown, his sister graduated from Pembroke—prompted him to apply before shipping out to Okinawa. He matriculated upon his return from service, studying English and history at Brown before heading to St. John's School of Law. During his career as a trial attorney with Allstate, Russo joined his colleagues in preparing and taking to trial the first mass tort case in the country: the class action suit brought by Vietnam veterans suffering from health issues they alleged to be the result of exposure to the dangerous chemical during their service.
Working this case was a career highlight for Russo, who felt strongly that veterans should be compensated for both their medical expenses and the pain and suffering they'd endured. The case was settled in 1984, awarding $180 million for veterans and their families. Russo received the Award of Gratitude from the Veterans of Foreign Wars, and later donated his papers relating to the litigation to Brown's John Hay Library.
(from an interview with his widow, Dr. Christina Russo)
More than 500 residents, fellows, and students at The Warren Alpert Medical School are trained every year by the VA Providence Healthcare System (VAPHS) in a variety of specialties including internal medicine, surgery, neurology, psychiatry, and orthopedics. One of Brown's major teaching hospital affiliates, VAPHS is a regional center for treatment of post-traumatic stress disorder, providing special medical services such as dialysis, substance abuse treatment, rehabilitative medicine, and prosthetics. It admits approximately 3,000 veterans annually and provides over 500,000 outpatient visits across 41 clinics.


• High marks for Brown! In U.S. News & World Report's 2021 "America's Best Colleges" rankings, Brown earned a #3 spot on its list of best universities for U.S. military veterans and slid into #1 (up from #3) in university undergraduate teaching.
• NEH funding secured for new teachers' training program. Brown's Choices Program recently secured a grant from the National Endowment for the Humanities (NEH) to train high school educators on teaching the history of American military conflicts. At the summer institute "American Soldiers in American Wars: History and Memory," teachers will come to Brown's campus to learn a unique model that unites scholarly debates, experiences of diverse groups of American service members, personal memories of service, and more.
• Brown alumna honored with GBH fellowship. Leah Williams '99 has been named the 2021 Peter S. McGhee Fellow by WGBH Boston Public Radio. Among a group of five GBH content creators recognized for their outstanding work with the Boston public media, Williams recently directed and produced episodes on a forthcoming PBS series, American Veteran, a four-part exploration of the experience of veterans across the entire arc of American history.

• Brush up your trivia skills! Brown's Office of Military-Affiliated Students (OMAS) is hosting a Student Veteran/ROTC & Alumni Trivia Night. Students and alumni will be teamed up for a fun, intergenerational, community-building night on December 1 at 6 p.m. ET. Register now and reach out to military@brown.edu with any questions.
• Is your alumni record up to date? To ensure you are kept updated about any upcoming veteran-related programs or information at Brown, email alumniveterans@brown.edu with your branch, dates of service, and anything else you'd like to share. Thank you for your service!
• Help expand the BUVAC mailing list. Do you know anyone interested in Brown military-affiliated news and events? Please share this newsletter and encourage your classmates, peers, and networks to join the BUVAC mailing list by emailing alumniveterans@brown.edu.
• Interested in finding out more about how Brown supports veteran and ROTC students? OMAS offers programs and services to help Brown students make successful transitions by connecting them with campus and community resources, facilitating learning opportunities, providing space for shared conversation, and more.

• Keep up with Brown alumni veteran affairs. Visit Brown's Alumni & Friends website for more information on BUVAC and its alumni-student mentoring program, updates on the University's initiative to bring more veterans to College Hill, roster of council members, and links to past newsletters.

• Looking for an intellectual boost? A new experience or two? Here are a few opportunities Brown and its inventive alumni groups have created for you to sneak some Brown back into your life this fall.
• Right now is a time when our promise as Brunonians to pursue lives of "usefulness and reputation" is most needed. Please share what you—or a Brunonian you know—are doing to help create a more just and equitable society.
• Bookmark these two sites: the Brown University events calendar—searchable by keyword, date, event type, or interest category—and the Alumni & Friends event calendar for upcoming virtual events.

For more campus updates, check the News from Brown weekly newsletter, coming straight to your inbox every Friday.