Spring 2021 Newsletter
In this issue:
Women's Voices Amplified podcast | Alumnae making a difference | Student spotlight | Women's Launch Pad mentoring program | Recent & upcoming events | Summer reading from Brunonian authors | University resources
Women's Voices Amplified podcast with storyteller Valerie Tutson '87 AM'90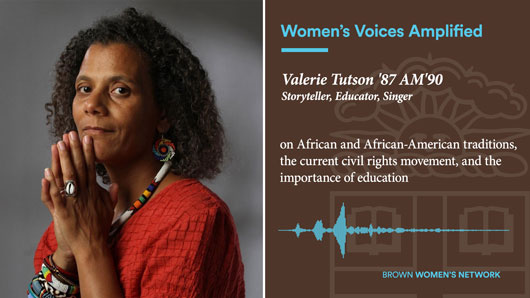 21-minute listen available now on Spotify, Stitcher, Soundcloud, Youtube, Apple Podcasts, or Amazon.
"When we truly look at our folk traditions, when we look at our deep history, when we look at the mythology of our peoples, whoever our peoples are, then we're gonna have a greater understanding of ourselves and we're also going to see our connected humanity."
In the latest episode of the Women's Voices Amplified podcast, Sarah Campen '07 speaks with storyteller Valerie Tutson '87 AM'90 of Rhode Island Black Storytellers about highlighting the stories and songs of African and African-American traditions, the current civil rights movement, and the importance of education.
Inspiring alumnae in a range of fields are interviewed for the Women's Voices Amplified podcast series from the Brown Women's Network. The views expressed in this podcast do not necessarily represent those of the University.
Like what you hear?
Want to hear more? Let us know! Take two minutes to fill out this quick survey about the Women's Voices Amplified podcast series.
Brown women making a difference
Hats off to these remarkable alumnae! The Brown Women's Network salutes the following women for working to address the COVID-19 pandemic, tackling social justice and political issues, and having thoughtful conversations during a challenging time.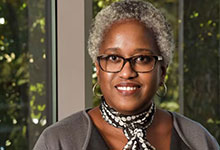 A New Vision with Renée T. White
Renée T. White Ph.D. '87 has been appointed provost at The New School in New York. As an accomplished higher education administrator and scholar on race, gender, and social inequality, White brings a new perspective to arts education and will begin her new role on August 1.
White is the editor of three books, including the Spoils of War: Women of Color, Cultures, and Revolutions, and is the author of Putting Risk in Perspective: Black Teenage Lives in the Era of AIDS. She has served as editor of the Journal of HIV/AIDS Prevention in Children & Youth and as editorial advisor to the Journal of HIV/AIDS and Social Services. White also was a Wye Faculty Fellow at the Aspen Institute and completed a National Endowment for the Humanities Fellowship in Black film studies. Her current research is in three areas: the impact of public discourse on social policy concerning reproductive rights, representations of Blackness in popular culture, and applications of Black feminist theory to higher education leadership.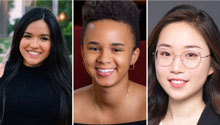 Through the Nelson Center's Breakthrough Lab, student entrepreneurs make waves in educational equity, natural hair care, and menstrual education
Elvia Perez '22 started EmpowerU, an educational tech startup that works to help address educational disparities. The organization provides students with the resources and tools they need to increase their access to higher education.
Lauren Brown '22 created Figured to help people with afro-textured hair find the best hair product lineup and routine for their curl characteristics and lifestyle.
Zixi (Jessica) Zhu '20 started Monara, to address the confusion, stress, and embarrassment of a first period. Monara provides everything from a sample of period products to interactive worksheets and an online crash course for teenage girls and their families.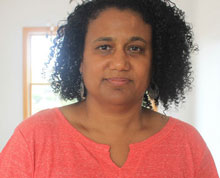 Ayo Magwood '89 is Uprooting Inequity
It's been a year since the death of George Floyd, and the worldwide movement for justice and equity continues. Anti-racist educator Ayo Magwood '89 is furthering these conversations through her organization Uprooting Inequity, which fosters fruitful conversations about race and racism and has been featured on both WAMU and NPR.
Magwood launched a series of intimate conversations with the Brown Club of DC community this past winter including "The Origins of Race and Anti-Black Racism in the US," that examined the colonial era to understand just how American concepts of racial identity, and anti-Black racism, evolved and took root.
Student spotlight: Friedman Award Winner Cartie Werthman '21
The Susan Pilch Friedman '77, P'08 Excellence Award in Women's Leadership honors the strength, tenacity, and determination of women on campus. This year's winner, Cartie Werthman '21, concentrates in International Relations, plays on the CoRays frisbee team, and works with the Climate and Development Lab to address the public relations industry's role in obstructing climate change action. Originally from Atlanta, she worked last fall as a field organizer in Georgia for President Biden's campaign. After graduating this December, Werthman hopes to work on climate change policy.
Currently Accepting Women's Launch Pad Mentor and Mentee Applications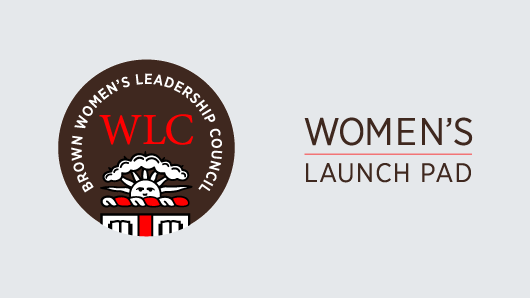 The Women's Launch Pad is starting a new mentoring cycle and actively recruiting mentees and mentors for the 2021-22 academic year. If you know an alumna (class of 2017+) who you think would enjoy the mentoring experience and could be a resource for a junior or senior class woman, please encourage her to visit our website and complete the mentoring form.
Women's Launch Pad is particularly looking for alumnae who identify with the first-generation college student/low-income experience, women of color, women in STEM, public health, medicine, and fields looking to create positive social impact.
If you know of a woman from the class of 2022 or 2023 who you think would benefit from being a mentee in the program, kindly encourage her to sign up here.
Applications are open until June 30.
Recent events and activities
Due to the COVID-19 pandemic, the Brown Women's Network pivoted from regionally-based, in-person events to virtual ones. There were a number of events and new virtual programming series that emerged, some of which are available below as recordings.
ALUMNAE AUTHOR SERIES: SUNISA MANNING '07 | Watch the recording
Sunisa Manning '07 and Mary-Kim Arnold '93, MFA '98 discussed Manning's debut novel, A Good True Thai, in last month's virtual "fireside chat."
A NEW GENDER EQUITY AGENDA | Watch the recording
In April, a moderated discussion about gender equity and policy featured Jennifer Klein '87, P'22, Pamela Reeves '87, P'22 and Alex Wagner '99.
WOMEN WORKING FOR WOMEN | Watch the recording
The March virtual panel discussion featured Brown alumnae working to help other women in the areas of education, maternal health, human trafficking, and health/nutrition.
ALUMNAE AUTHOR SERIES: AMRA SABIC-EL-RAYESS '00 | Watch the recording
In February, Amra Sabic-El-Rayess '00 discussed her recently released memoir, "The Cat I Never Named: A True Story of Love, War, and Survival," where she shares her journey of growing up amidst the brutality of the Bosnian War and eventually becoming a college professor.
FACULTY SPOTLIGHT: SEX MATTERS IN MEDICINE WITH ALYSON J. MCGREGOR, M.D. RES '07 | Watch the recording
McGregor discussed tips on taking control of your medical care and treatment as well as her recently published book "Sex Matters: How Male-Centric Medicine Endangers Women's Health and What We Can Do About It" in January.
PRACTICING SELF-CARE AND LAUGHTER | Watch the recording
The January virtual "fireside chat" featured former Comedy Central colleagues Tara Schuster '08 and Lauren Corrao '83, P'16. They discussed Schuster's new book "Buy Yourself the F*cking Lilies", self-care, and navigating the time we're living in.
Summer Reading List
Settle into summer with nice weather and a good book! Here's a listing of some perfect summer reads by alumnae authors.
A Good True Thai by Sunisa Manning '07
In her debut novel, Sunisa Manning '07 tells the story of three young people whose paths converge while at university in Thailand during the '70s student movement. They are swept up by political activism and the thrill of first love.
The Cat I Never Named: A True Story of Love, War, and Survival by Amra Sabic-El-Rayess '00
The gripping memoir of a Muslim teen struggling to survive in the midst of the Bosnian genocide — and the stray cat who protected her family through it all.
Model Breakers: Breaking Through Stereotypes and Embracing Your Authenticity by Charlene Wang '20
The book explores the intersection of self-awareness, identity, and minority stories, inviting readers to change the limiting beliefs they impose on themselves and break through the stereotypes that can keep them from achieving their dreams.
The Anatomy of Grief by Dorothy P. Holinger '79
Psychologist Dorothy P. Holinger uses humanistic and physiological approaches to describe grief's impact on the bereaved. Particularly relevant during this time of COVID-19, Holinger shows the bereaved how to move through the grieving process and how understanding grief in deeper, more multidimensional ways can help quell the sorrow and allow life to be lived again with joy.
University Resources
Anti-Black Racism and Social Justice:
In light of the renewed struggle for racial justice and the global pandemic of the last year, the Center for the Study of Race and Ethnicity in America (CSREA)'s new art exhibit, Transcendent Futures, features 20+ artists whose artwork explores hope, connection, and community, as we collectively strive to build a more just and peaceful world.
The Center for the Study of Slavery and Justice(CSSJ)'s "This Is America" series explores how various forms of structural violence are rooted in anti-Black racism.
Brown scholars shed light on the enduring effects of racism in America in the monthly "Race &" panel discussion series hosted by the Office of the Provost and CSREA.
COVID-19 and Public Health:
Dr. Ashish Jha, dean of the School of Public Health, and his guests explore various perspectives on the COVID-19 pandemic on the Conversations with... series.
In a collaboration between the Warren Alpert Medical School and the School of Public Health, a new "Decoding Disparities" virtual event series examines health inequity and outlines steps toward a more equitable and just health care system.
Recent Graduates:
The Brown Women's Network is proudly sponsored by the Women's Leadership Council.
---
The Brown Women's Network is open to all members of the University community who identify as cis or trans women, as well as non-binary people who are comfortable in spaces that center on the experiences of women.
Follow the Brown Women's Network on