Winter 2021 Newsletter
In this issue:
Veterans Day 2021 • Watson Institute Military Fellows • Veteran and ROTC admission update • Student Veteran Mentoring Program • Alumni veterans & friends in the news • Share and learn more
Veterans Day 2021: Honoring Veterans on College Hill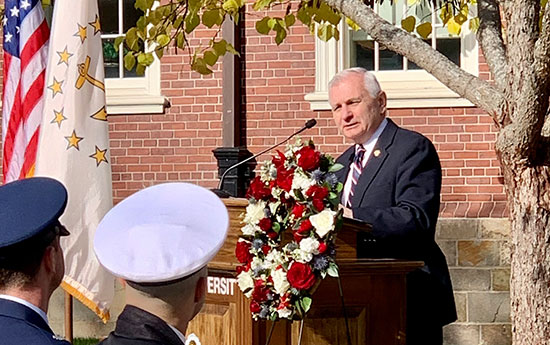 The Brown University Veterans Alumni Council (BUVAC) joined President Christina H. Paxson, U.S. Sen. Jack Reed, and Brown veterans and ROTC students at the annual Veterans Day service on November 11. President Paxson spoke of Brown's commitment to honoring Brunonians who have served and supporting military-affiliated students on campus, including veterans and ROTC members.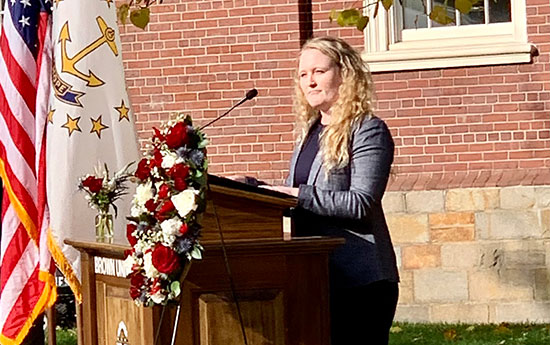 Student veteran Katie Yetter '21.5, who was recently featured by Providence's NBC channel for introducing a local program to connect young people with veterans, gave the student address.
BUVAC Veterans Day Event
Following the University's ceremony, BUVAC held its annual Veterans Day luncheon and event at the Faculty Club. We were joined by over 50 guests for a presentation by Peter Harrington, curator of the Anne S.K. Brown Military Collection at the John Hay Library. The Anne S.K. Brown Military Collection is the foremost American collection of material devoted to the history and iconography of soldiers and soldiering, and is one of the world's largest collections devoted to the study of military and naval uniforms. It was formed over a period of 40 years by the late Mrs. John Nicholas Brown (1906-1985) of Providence, and it is still growing.
The collection contains approximately 14,000 printed books, 18,000 albums, sketchbooks, scrapbooks, and portfolios (containing thousands of prints and drawings), and over 15,000 individual prints, drawings, and watercolors, as well as a collection of 6,000 miniature lead soldiers. The collection covers all aspects of military and naval history, particularly the 1500-1945 period.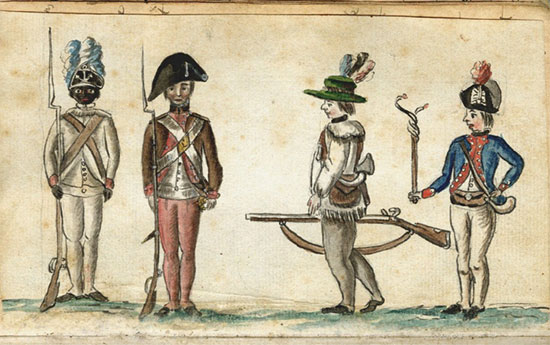 "Soldiers in uniform" by Jean Baptiste Antoine de Verger (1781) from the Anne S.K. Brown Military Collection and Brown Digital Repository.
The public aspect of the military collection is a permanent display of approximately 6,000 miniature toy soldiers. Mostly 54mm in size, the collection can be viewed on the third floor of the John Hay Library beginning in the spring of 2022, and a wealth of information is available on the Anne S.K. Brown Military Collection webpage.
BUVAC Council meets Watson Institute Military Fellows
Visiting scholar and national defense fellow at the Watson Institute Theodore "Doc" Shanks joined the council during its fall meeting for a presentation about the Military Fellows Program. The program offers select U.S. and international military officers the opportunity to spend one year in the Watson Institute scholarly community auditing graduate-level courses, engaging in security-related seminars, and participating in a security-focused research working group with faculty, students, and policy practitioners. The program provides a critical learning experience for the fellows, while at the same time enriching the Brown community with the fellows' knowledge, expertise, and unique perspectives.
Brown Veteran and ROTC Student Admission Update
Brown's Office of Undergraduate Admission reports major progress toward the institutional goal to double the number of enrolled undergraduate student veterans from 21 in 2019 to 42 by 2024. There are currently 79 student veterans at Brown, including undergraduates as well as graduate and medical students, in addition to 36 ROTC members. The Office of Admission has created an application and webpage specifically for veteran applicants, and has seen a noticeable uptick in both applications and matriculation.
Student Veteran Mentoring Program Update
An update from Johanna Hussey, Assistant Director of Engagement Programs, Alumni Relations
The Brown University Student Veteran Mentoring Program (VMP) is a collaboration between the Office of Alumni Relations, the Office of Military-Affiliated Students (OMAS), and the Peer Advisors for Veteran Education (PAVE) program. The mission of the VMP is to offer practical advice as mentees navigate their years at Brown and give them the opportunity to learn from the professional and personal experiences of alumni through a paired mentoring relationship. During the Veterans Day event on November 11, the PAVE program launched an online Mentor Center platform where mentors register and mentees can access their profiles.
If you're interested in being part of our military-affiliated mentoring community, you can join us in the following ways:
See the "how-to" login sheet for Mentor Center (the student-built mentoring platform)
Log in to Mentor Center using your Google credentials. Complete your mentor profile.
Join the Veteran Mentoring Program LinkedIn group to learn about updates, news, and communications.
Alumni veterans and friends in the news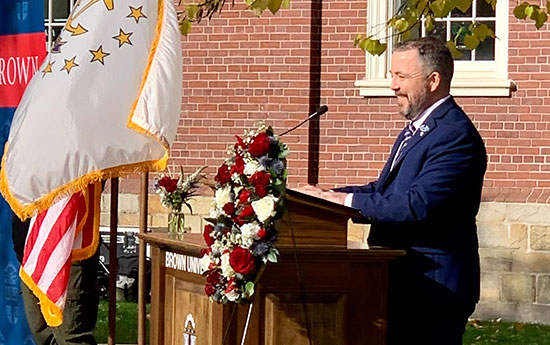 Brehan Brady '23 introduces Sen. Jack Reed during the Veterans Day event.
• Army veteran and native Rhode Islander Brehan Brady '23 completed two tours of duty in Iraq before transferring to Brown this year.
• President Biden has nominated Alex Wagner '99 as assistant secretary of the U.S. Air Force for manpower and reserve affairs in the Department of Defense.
• After 31 years in the Army, Jim Lynch MD'03, P'19 completed a fellowship in sports medicine and became a USA Swimming and U.S. Olympic & Paralympic Committee physician.
• Brown ROTC students reflect on the 10-year anniversary of the program's return to campus.
• BUVAC is making a big impact in the lives of Brown's military-affiliated students.
• Alumni Spotlight: Former Brown Alumni Association board member and retired U.S. Coast Guard officer Jeremy McKenzie MPP'16.
TONIGHT! Women in Washington: Leading in Times of Crisis virtual event
The Brown Women's Network hosts a virtual conversation with senior Biden administration leaders to explore the role of women in government and how to navigate Washington during these times of change and uncertainty.
Update, share, and learn more
Staying in touch with the alumni veteran community
• Is your alumni record up to date? To ensure you are kept updated about any upcoming veteran-related programs or information at Brown, email alumniveterans@brown.edu with your branch, dates of service, and anything else you'd like to share. Thank you for your service!
• Help expand the BUVAC mailing list. Do you know anyone interested in Brown military-affiliated news and events? Please share this newsletter and encourage your classmates, peers, and networks to join the BUVAC mailing list by emailing alumniveterans@brown.edu.
• Interested in finding out more about how Brown supports veteran and ROTC students? OMAS offers programs and services to help Brown students make successful transitions by connecting them with campus and community resources, facilitating learning opportunities, providing space for shared conversation, and more. The OMAS website includes details on Air Force, Army and Naval ROTC, as well as the Peer Advisors for Veteran Education (PAVE) peer support program.
• Keep up with Brown alumni veteran affairs. Visit Brown's Alumni & Friends website for more information on BUVAC and its alumni-student mentoring program, updates on the University's initiative to bring more veterans to College Hill and links to past newsletters.