Winter 2022 Newsletter
In this issue:
The state of American democracy | Alumnae in the news | Reproductive health: Doulas@Brown | Student spotlight | Women's Launch Pad resources | Upcoming events and initiatives | Winter reads | University resources
The state of American democracy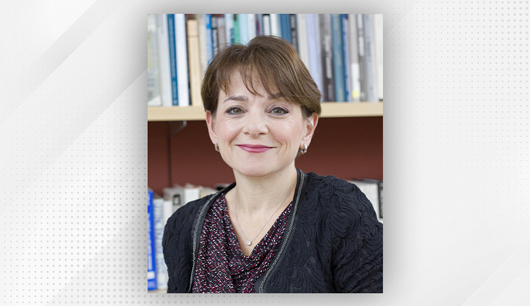 In the lead-up to the midterm elections, Royce Family Professor of Teaching Excellence in Political Science Wendy Schiller ADE'02 hon. provided a comprehensive view of American politics during a special virtual event for alumni that was co-sponsored by the Brown Women's Network. Professor Schiller argued that current commentary about the decline of democracy, equality, and participation overlooks some of the significant ways American society has become more democratic, more inclusive, and more participatory in the past 30 years.
Watch the recording.
Alumnae on ballots across the country
The 2022 midterm elections brought out a record number of voters in the U.S. and more women than ever were inspired to run for office in state and local elections. Brown alumnae appeared on ballots across the country, including:
Leora Levy '78 in the U.S. Senate race in Connecticut

Marie Hopkins '07, P'24 in the Rhode Island General Assembly race

Jasmine Beach-Ferrara '98 in the U.S. Senate race in North Carolina

Kirsten Engel '83 in the U.S. Congress race in Arizona

Maggie Hassan '80, P'15 in her re-election campaign to the U.S. Senate from New Hampshire

Lauren Davis '09 in her re-election campaign as state representative from Washington
Brown women in the news
Hats off to these remarkable alumnae! The Brown Women's Network salutes the following women for creating positive change in their respective fields.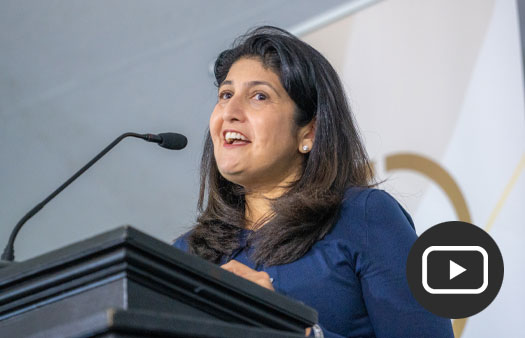 Monica Shah '89 MD'94 is using her Brown degrees in unexpected ways. The research leader in cardiology and gene therapy reflects on her family's history of giving back and explores how Brown has been a foothold to grow her remarkable career.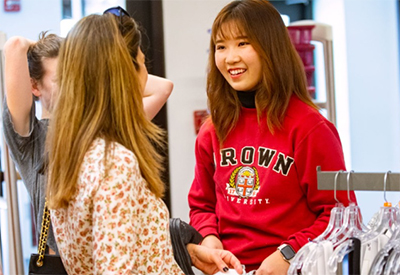 Glory Lee '24 has launched an upcycled fashion collaboration with the University bookstore. Lee, a Brown-Rhode Island School of Design (RISD) dual degree student, is studying apparel design at RISD and economics at Brown. She's the founder of Missing Button, a creative studio focused on upcycling unwanted Brown-branded apparel by transforming it into other high-quality products.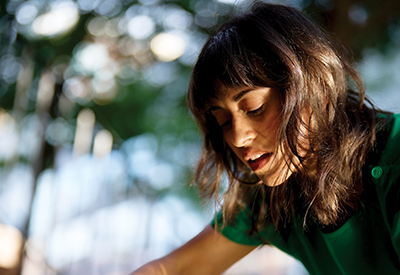 Chef Gabriela Álvarez-Martinez '11 draws from her public health training and her Puerto Rican roots to create her unique, delicious cuisine. Álvarez-Martinez was determined to use her knowledge of food as medicine to support activist spaces. Liberation Cuisine, her catering enterprise, specifically targets social justice nonprofits and other community-based organizations in its clientele. Its mission is to highlight the health and nourishment inherent in Puerto Rican and other Caribbean cuisines. "As Latinx people, as Caribbean people, I get to feed you with something that nourishes your spirit."
Reproductive health: A return to holistic birth work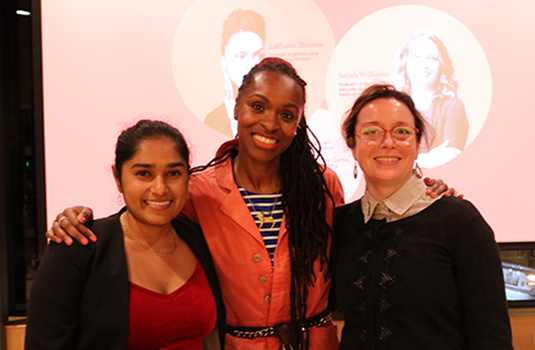 In an effort to address reproductive health and reproductive justice needs, Leona Hariharan '23 formed Doulas@Brown, a BIPOC-centered reproductive justice organization, following doula training from Mama Glow.
This new group is holding events on campus, including a recent one in October, that addressed questions like "What exactly is a doula?" and "How can the work of doulas contribute to positive health outcomes for birthing people?" They aim to illuminate the reproductive health crisis in the U.S. and the necessity of prioritizing doula work in Black and Brown communities. Doulas@Brown is training student doulas to meet the demand for holistic birth work in their communities nationwide and to support the collective effort to decrease adverse health outcomes among birthing people.
Student Spotlight: Olivia Pichardo '26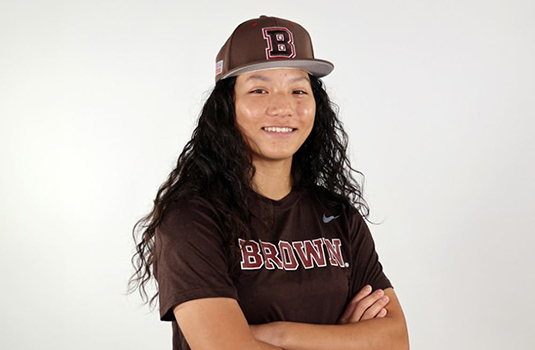 Since she was five years old, Olivia Pichardo '26 has known that baseball was going to be her future. Pichardo ignored pushes to switch to softball and instead stuck to the game she loves. And this fall, Pichardo became the first woman ever to appear on a Division I baseball roster, marking both a historic moment for women in sports and a personal milestone enabled by her commitment and determination.
Women's Launch Pad mentoring program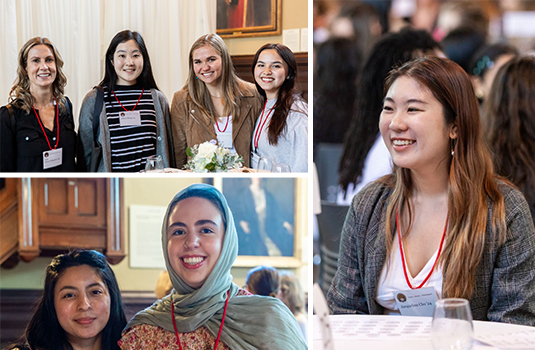 The Women's Launch Pad (WLP) pairs junior and senior class women with Brown alumnae in mentor/mentee relationships to help propel them into life beyond Brown. Learn more about the program and consider becoming a mentor for the next academic year.
RECENT WOMEN'S LAUNCH PAD EVENTS
How to optimize your finances with Madison Frye '21 | Watch recording
WLP mentor and former WLP mentee Madison Frye joined the co-founder and CEO of fintech company Uprise for a discussion on optimizing your finances and finding money left on the table. Madison walked through her personal finance journey as an upperclassman at Brown, preparing for life as a new graduate, and how she optimized her finances leading up to Commencement.
Mentoring 101: Fireside chat with Geema Masson '97 MD'02 and Gabriela Garcia '23 MD'27 | Watch recording
Geema Masson and Gabby Garcia have started their second year together with the WLP program. During this conversation, they interviewed each other about the shared roles of mentor and mentee and discussed their tips for building a mentoring relationship.
Current events and activities
Upcoming events and initiatives:
Recent Events:
Director of Brown's Center for the Study of Race and Ethnicity in America Tricia Rose AM'87 PhD'93, P'14 welcomed Ahmir "Questlove" Thompson to campus for a behind-the-scenes discussion about the making of his award-winning documentary that gives viewers a look at an epic event celebrating Black history, culture, and fashion.

At the most recent Industry Night event, current students and young alumnae joined an expert panel of Brunonian women to learn more about careers in journalism and publishing.

Catch up on other events from the Brown Women's Network with our extensive library of recordings.
The grand opening of Stonewall House: Intersectional community space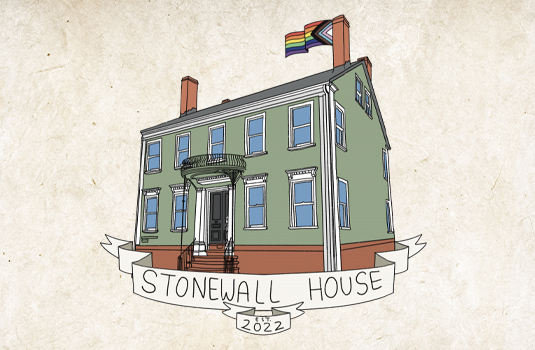 This fall, Brown's LGBTQ Center celebrated the opening of its new home. Stonewall House is located right next to the Sarah Doyle Center for Women and Gender, and will allow the center to increase its academic and social offerings for the Brown community. "There is a lot of overlap between a lot of these groups," said Sarah Doyle Center director Felicia Salinas-Moniz. "People (often) don't fit into one category or feel like they belong in only one of these groups, and so I think this proximity is also super exciting."
Winter reads
Snuggle up with a cozy blanket, hot cocoa, and a good book! Here's a listing of some recent books by alumnae authors.

University resources
Anti-Black Racism and Social Justice
Community, Belonging, and Support
Identity-Based Alumni Affinity Communities:
Recent Graduates
We Want to Hear From You!
Thank you for taking a few minutes to answer questions about your experience with myBrown, a digital destination for Brown-related resources, as well as to share your insights on a potential Brown mobile app experience. Your input and feedback is critically important.
The Brown Women's Network is proudly sponsored by the Women's Leadership Council.
---
The Brown Women's Network is open to all members of the University community. Network activities focus on the experiences of those who identify as cis or trans women, as well as non-binary people who are comfortable in spaces that center on the experiences of women.
Follow the Brown Women's Network on