January 26 and 28, 2013
Brown will host the West-Eastern Divan Orchestra—an ensemble of young Arab and Israeli musicians—for two concerts at Veterans Memorial Auditorium in Providence.

* * * * * * * * * * * * * * *

International Brown Clubs Host Brown Faculty

January 13 - Delhi
Senior Lecturer in Theatre Arts and Performance Studies Barbara Tannenbaum P'10 will speak about "Persuasive Communication."
Contact Radhika Kumar '12

March 21 - London
Professor of English Coppelia Kahn will spaeak about "Shakespeare in American Life."
Contact Luke Balleny '06

March 21 - Tokyo
The Brown Club of Japan will host Professor Emeritus of Classics Kurt Raaflaub P'96.
Contact Rika Nakajima '92
The Class of 2016 includes 221 international students from 57 countries. The gradual shift in international student demographics over the past decade has been dramatic—10 years ago, the freshman class included only 127 international students from 37 nations.

On October 17, in the Rhode Island Convention Center in downtown Providence, Brown hosted His Holiness the Dalai Lama, who delivered a Stephen A. Ogden Jr. '60 Memorial Lecture on International Affairs. His talk was titled "A Global Challenge: Creating a Culture of Peace."

Reunion 2013: May 24, 25 and 26
Does your class year end in 3 or 8? Celebrate your lifelong connection to Brown through your class reunion in May.

David Deisley '78 P'11 has been appointed executive vice president and general counsel of Novagold Resources Inc., a mining corporation engaged in discovering and extracting gold from deposits in western Canada and Alaska.

Maggie Hassan '80 P'15 won the governorship of New Hampshire in November. With her victory, Hassan will join Rhode Island Governor Lincoln Chafee '75 P'14, Delaware Governor Jack Markell '82, and Louisiana Governor Bobby Jindal '92 as University alumni/ae in gubernatorial office.

Tarek Shawki SCM'83 PHD'86 has been named dean of the School of Sciences and Engineering of the American University in Cairo. He spent more than a decade between Cairo and Paris working at UNESCO, where he was a key player in the development of several innovative programs related to education and technology.

Elif Uras '94 is one of the artists featured at the Istanbul Pavilion representing Turkey at the 9th Shanghai Biennale. The exhibition, titled "A Twist in the Untimely," runs through March 2013.

Brothers Alexander Green '99 and Andrew Green '01 recently purchased the prominent and historic Fairmont Hamilton Princess hotel in Bermuda. Peter Green House, the home of Brown's Department of History, is named in honor of their father, Peter Green AM'80 P'99 P'01, and in memory of their late mother, Mary-Jean Mitchell Green P'99 P'01.

IN MEMORIAM

The Brown community mourns the passing of Edward Giberti '54 (United Kingdom). He served on the Brown Alumni Association, interviewed and hosted countless Brunonians during their visits and studies in Japan and the United Kingdom, and led the Brown Club of the United Kingdom for many years. A service of thanksgiving was held in Brown's Manning Chapel on September 23 to celebrate his lifelong service to Brown.

In September, the Brown Club of Taiwan hosted Associate Professor of Education Jin Li, who spoke about "Cultural Foundations of Learning: East and West."

William Learned Marcy, Secretary of State of the United States, graduated from Brown in 1808. He was a leading candidate for the Democratic nomination for president in 1852, but lost to Franklin Pierce. He was named Secretary of State by Pierce. Marcy negotiated the Canadian reciprocity treaty in 1854, sought the annexation of the Hawaiian Islands, promoted the abolition of the Danish Sound dues, urged the free navigation of international streams, and favored the annexation of Cuba if this could be accomplished without war.

Mount Marcy—at 5,343 feet the highest peak in the Adirondacks and the highest mountain in New York State—was named in his honor when he was governor of New York.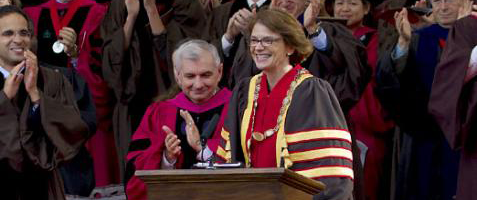 Inauguration of Brown University's 19th President
Members of the Brown community and guests gathered on October 27 to inaugurate Christina H. Paxson as Brown's 19th president.

The inauguration ceremony brought together academic leaders, alumni/ae, dignitaries, and friends from around the globe to celebrate with faculty, students, staff, and members of the Providence and Rhode Island communities. The ceremony included an academic procession, greetings from campus representatives, engagement of the office and presentation of presidential symbols, remarks by government officials and academic leaders, and President Paxson's inaugural address: "The Value of Imagination." The celebration began on October 26 with an evening of festive performances at Veterans Memorial Auditorium.

Photo: President Paxson during her inaugural address on the College Green.
Credit: Mike Cohea/Brown University

Presidential Trip to Hong Kong
President Paxson made her first official overseas trip as president of Brown, traveling to Hong Kong from November 26 to December 1 with Vice President Ron Margolin and Assistant Vice President Josh Taub '93. The delegation attended the meeting of the Brown University Advisory Councils on Asia and China; visited Chinese University of Hong Kong; and met with alumni/ae, parents, and friends to develop and strengthen the University's ties in the region. Following the Hong Kong trip Margolin and Taub visited Taipei where alumni and parents hosted events for members of the Brown community in the area.

Photo: President Paxson (center) with members of Brown's Asia and China Advisory Councils.

Brown has recently received several gifts and pledges from international alumni/ae and parents, for these and other purposes:
To support the Social Innovation Initiative (from an '85 alumna in Hong Kong)

To establish the Miller Keio Student Scholarship (from a '79 alumnus in Japan)

To renovate a building for environmental research and teaching and to support a new internship initiative (from an anonymous international donor)

To support Brown's Greater China Fund—which supports the University's priorities relating to the People's Republic of China, Hong Kong, and Taiwan—and endowed and current-use scholarships (from a current parent in China)




Brown Ranks Seventh on College Choice
Parchment Inc., a credentials data company, has gathered statistics on the choices applicants make when admitted to more than one college or university. Its ranking of schools—based on choices students actually make—applies the same methodology used to rate chess masters. Brown ranks seventh nationally on Parchment's list, fourth among the Ivies after Harvard, Yale, and Princeton.

Brown's Graduate-Engineering Program Ranks Second in U.S.
Brown University Engineering recently ranked second on graduateprograms.com list of the Top 10 Graduate Engineering Programs in the United States. Programs were ranked based on student reviews from more than 500 engineering schools. The programs were ranked in 15 different categories using a 10-star system. Brown, with 8.7 stars, ranked second after Cornell University, which had 8.8 stars. Stanford University rounded out the top three with 8.6 stars.

Indian Minister Inaugurates the Brown-India Initiative
The University formally launched the Brown-India Initiative on September 28 with a well-attended lecture in Brown's List Art Center. Indian Minister of External Affairs S.M. Krishna, who was accompanied by Indian Ambassador to the United States Nirupama Rao, spoke about India's foreign policy priorities in the 21st century. Ashutosh Varshney, the Sol Goldman Professor of International Studies and the Social Sciences and director of the Brown-India Initiative, organized the event at which President Paxson and Provost Mark Schlissel P'15 also spoke. The event received extensive international media attention.

Photo: S.M. Krishna, India's Minister of External Affairs

Brown Hosts Korean Film Theory Colloquium
Brown hosted a Korean Film Theory colloquium—"Film Theory and National Publics in Divided Korea"—in October at the Cogut Center for the Humanities. Four scholars specializing in Korean film and media participated in the colloquium, which was organized by Michelle Cho, a postdoctoral fellow in international humanities.

The Brown International Scholarship Committee
On October 20 (during Family Weekend), the Brown International Scholarship Committee (BISC) hosted a reception at the John Carter Brown Library for international students and their families to promote scholarships for international students. Contact Geoffrey Kirkman '91 for information on how you can support BISC Scholarships.

Photo: BISC members at the reception.

Locke to lead Brown's Watson Institute
Richard Locke has been appointed director of the Watson Institute for International Studies at Brown. Currently deputy dean of the Sloan School of Management and head of the political science department at MIT, Locke will begin his new duties at the Watson Institute in July 2013.

Brown Faculty Addressing Care for HIV and TB Infected Children in Ukraine
In October, several Brown faculty members, including Drs. Timothy Flanigan, Boris Skurkovich, Natasha Rybak, and Nickolas Zaller, participated in an international symposium "Excellence in Pediatric HIV and TB Care" in Kiev, Ukraine, hosted by the Brown-Ukraine collaboration. This collaboration—sponsored by the Elena Pinchuk ANTIAIDS Foundation—focuses on addressing care for HIV and TB coinfected children in Ukraine.

Photo: Nick Zaller, assistant professor of medicine, and Infectious Disease Fellow Natasha Rybak at the table.

A Spanish Homage to Ortega's Work
The Center of Modern Art in Madrid, Spain, honored the work of Julio Ortega, professor of Hispanic studies, with a public event on October 16—his 70th birthday. Members of Madrid's academic and literary communities came together to listen to Professor Carmen de Mora of the Universidad de Sevilla talk about Ortega's accomplishments as a literary scholar and writer.

Photo: Professor Julio Ortega

Brown Seniors Awarded Rhodes and Mitchell Scholarships
Two seniors at Brown have been selected recipients of prestigious academic awards.

Clayton Aldern '13, a neuroscience concentrator, has been awarded a Rhodes Scholarship to study at the University of Oxford. Clayton plans to study neuroscience at Oxford and continue his commitment to science literacy and outreach.

Lucas Mason-Brown '13, a mathematics and logic and the philosophy of science concentrator, has been awarded a Mitchell Scholarship to study at Trinity College, Dublin. Lucas will study mathematics at Trinity College.

Photo: Clayton Aldern (left) and Lucas Mason-Brown (right)

Brown Ranks Third with 29 Fulbright Awards
Brown ranks third among top-producing research schools with 29 Fulbright awards. The 29 Brown winners include 24 from the Class of 2012, two from the Class of 2011, and two graduate students. They have begun, or will soon begin, their grant years in 22 different countries including Senegal, Brazil, Spain, Macau, and Bangladesh.

Photo: Some of Brown's 2012 Fulbright winners.

Nonprofit Repairs Med Equipment in Developing World
Jayson Marwaha '14 and Han Sheng Chia '14, co-directors of Medical Equipment Donations International, spent about 10 weeks in Zanzibar this summer assessing medical equipment needs in the region. MED International is a recently-formed nonprofit organization that focuses on the delivery and use of medical equipment in underdeveloped countries.

Photo: Jayson Marwaha '14 and Han Sheng Chia '14 cataloguing and repairing medical equipment supplies in Zanzibar.

Botín Scholars at Brown
For the third year, during October 40 university students from Latin America visited the Watson Institute for International Studies to strengthen their vocation for public service. The program included leadership and team-building exercises led by Brown's Leadership Institute. Spain's Fundación Botín has supported the Program on Leadership, Liberal Arts, and Public Service at Brown since 2010.

Photo: Botín scholars

Brown in Brazil
Vice President for International Affairs Matt Gutmann P'14 traveled to Brazil in September. His meetings with university and government officials included one in Brasilia where representatives from federal agencies offered to fund a Chair that will bring a different distinguished Brazilian scholar or scientist to Brown each year. Gutmann also reached agreements that will bring top Brazilian undergraduate and graduate students to study science, engineering, and mathematics at Brown through the new Science Without Borders program.

Regional Director for International Advancement Geoffrey Kirkman '91 traveled to Rio de Janeiro and São Paulo in October, where he not only met with Brown parents and alumni but also representatives from leading Brazilian foundations and other organizations. There were many productive conversations about the rising interest in Brown within Brazil as well as Brown's longstanding research and teaching on Brazil.

Brown Strengthens Ties with Universities in China and Japan
In October, Vice President for International Affairs Matt Gutmann P'14 visited Zhejiang University (ZJU) and Peking University (PKU) in China. At ZJU he had discussions with President Yang Wei and others about Brown's multiple faculty and student collaborations and exchanges—including those between the two Medical Schools—supported by the Sheldon P'11 and Hong Chang Pang Endowment. At PKU, Gutmann was invited to help organize a Brown University Day there. Gutmann also traveled to Tokyo where he met with officials from Keio University about student exchange programs supported by the Miller Keio Student Scholarship.

Photo: Vice President Matt Gutmann P'14 (second from left) with the Peking University faculty members.